So we've all seen (and eaten) orange poppy seed cakes, lemon poppy seed cakes and plain poppy seed cakes, but have you ever come across a Strawberry Poppy Seed Cake?

I certainly hadn't – but what a great flavor combination.
One of the reasons this cake works so well is that it takes familiar cake flavors and teams them up in and unusual way. We know and love poppy seed cakes, strawberries and cream cheese frosting, but you've probably not seen them all together.
Until now that it.
Here you have layers of sour cream, poppy seed cake that's spiked with lemon zest. The strawberry filling is made from over a pound of fresh strawberries and a little strawberry jam to add some syrupy stickiness. Finish it off with a whipped cream and cream cheese frosting, that's out of this world delicious, and this is one unusual cake recipe that no one will forget in a hurry.
The creative cake queen Heather at Making Life Delicious shares her gorgeous Strawberry Poppy Seed Cake.
We have lots of strawberry cake recipes to share on The Answer is Cake. How about this Strawberry Cream Cake or this luscious Strawberry Chocolate Devil's Food Cake.  Then there's this cake flavored by nothing other than pureed fresh strawberries – utterly delightful.

Strawberry Poppy Seed Cake Recipe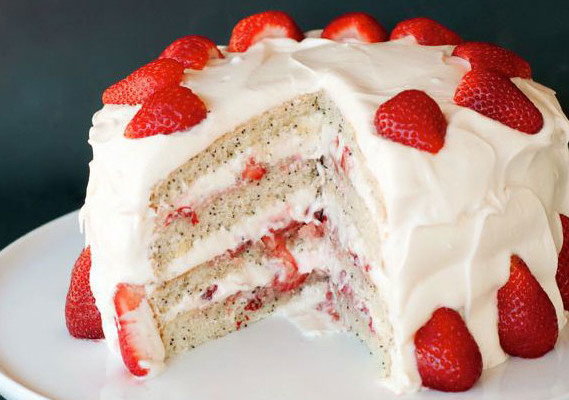 Ingredients
For the poppy seed cake:
½ cup vegetable oil
1½ cups sugar
¾ cup whole milk
¼ cup sour cream
2¼ cups cake flour
1 tablespoon baking powder
2 eggs, room temperature
1 tablespoon vanilla extract
½ teaspoon kosher salt
zest of one lemon
2 tablespoons poppy seeds
For the frosting:
12 ounces cream cheese, room temperature
1 tablespoon vanilla extract
4 cups powdered sugar
2 cups cream
For the strawberry filling:
½ cup strawberry jam
1½ pounds fresh strawberries (about 1 lb after being stemmed & thinly sliced)
½ teaspoon freshly squeezed lemon juice
For the garnish:
1 pint fresh strawberries for garnish