When it comes to chocolate cakes that aren't difficult to make, this has to be amongst the best I've come across.

I have been visiting my sister in her new house in the country. As often happens, I had the overwhelming desire to bake.

Now ordinarily this wouldn't be an issue but right now my sister doesn't have any baking equipment. She and her husband are currently running two households while they wait for his job transfer to come through. The baking stuff is in their old house – on the other side of the country.
My need to bake was strong. Desperate even. What was I to do? Surely a simple chocolate cake could be conjured up.
I took stock. I had a glass bowl, a rubber spoon, a set of measuring cups, a wire sieve and the choice between a loaf or a spring form baking pan. That was it.
I needed a straightforward recipe I could make from scratch, most importantly a recipe that didn't use an electric mixer. This was going to be chocolate cake the old fashioned way.
Enter the Depression Cake

I remembered reading about a style of cake known as a "Depression Cake". Not depression as in a negative emotional state, but depression as in Great Depression. No milk, no butter, no eggs and no fancy electric mixer needed.
I found a recipe and made a few changes – this wasn't The Great Depression after all.
The main change was substituting coffee for half of the water in the recipe. Coffee gives a richer deeper flavour to chocolate cakes but you can't taste any trace of the coffee in the finished cake at all – you wouldn't even know it was there.
Essentially, you mix together the dry ingredients and then add the vinegar, vanilla and oil. Using a fork, you mix all this together until it is well combined. It's like a dry crumbly pastry dough at this stage. To be honest, it looked a lot like soil actually.
Then you add the cold water and coffee and mix vigorously. Mix, mix, mix. Get those arm muscles into it. It's actually not too hard to get the bake batter to a good lump-free consistency (although at this stage I found out that the plastic spoon was a little bendy so it was a bit harder than it otherwise would have been).
Into the spring form tin and pop into the oven. One bonus of so little baking equipment was that cleaning up was a breeze.
The smell of chocolate cake baking filled the house. Mouths were watering. Hungry family members made tentative forays in the kitchen to check on the progress of the cake and calculate when their first slice would be served.
Exactly 35 minutes later, the cake had risen nicely, not as much as some cakes but this was certainly no pancake. The Depression Cake certainly looked like a success, but the true test is always in the taste.
I decided a layer cake was the best option so I split the cake and added a heavy cream and dark chocolate frosting gananche. Again, a bit of an arm workout beating cream the old fashioned way but I got there in the end.
And the taste? Absolutely fabulous!
The cake had a rich, deep chocolatey flavour and was quite light and fluffy.
So my simple chocolate cake baking experiment was deemed a success – there's not much cake left for sure. Not bad for a chocolate cake made with no butter, no milk, no eggs and no electric mixer.
I was quite proud of the finished cake. It looked and tasted delicious, and I overcame a few challenges to make it. But as fun as the process was given the circumstances, I won't be retiring my electric mixer anytime soon.

Simple Chocolate Cake Recipe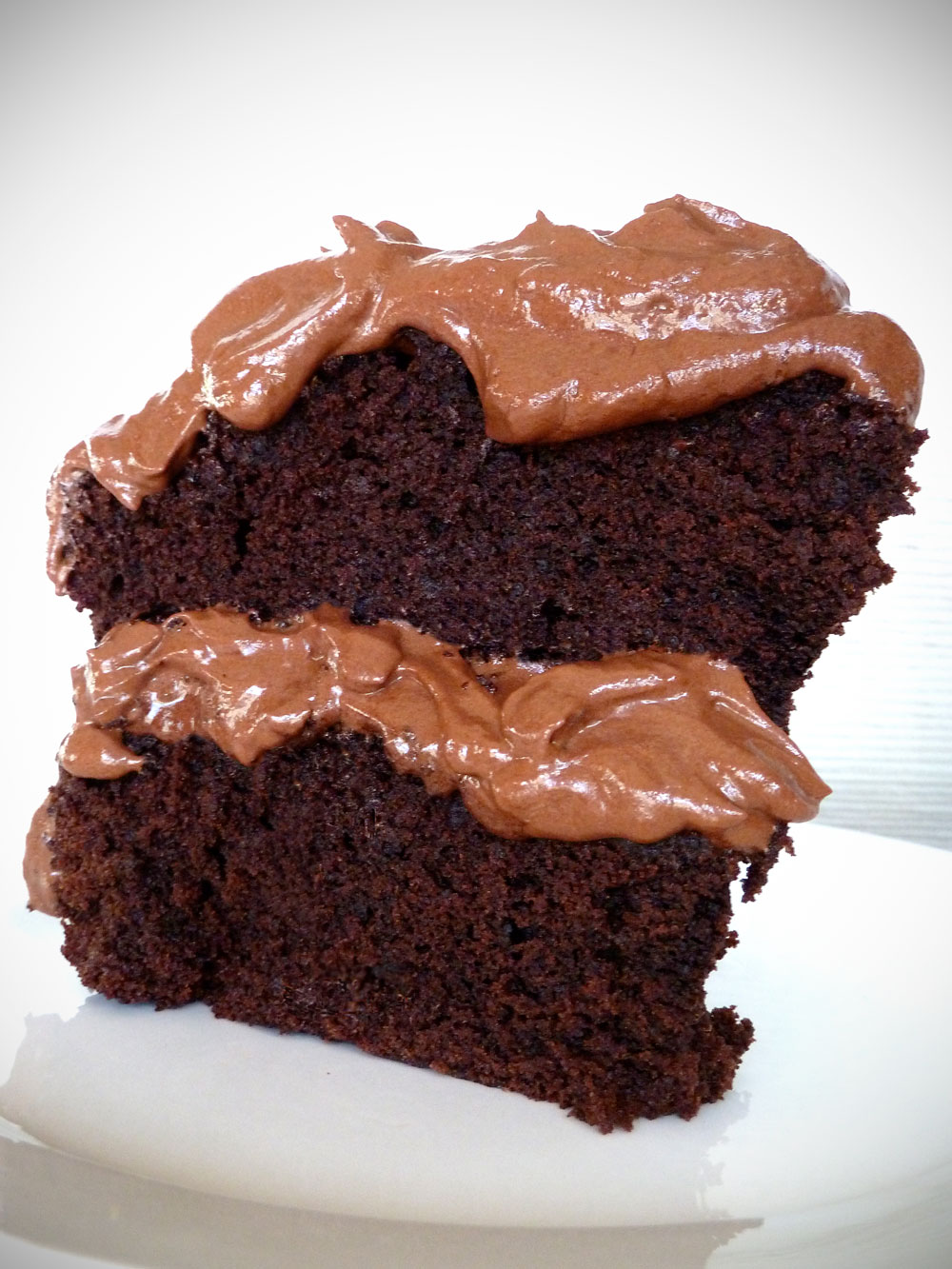 Ingredients
For the Chocolate Cake:
1 cup caster sugar
1-1/2 cups plain (all-purpose) flour
½ cup unsweetened cocoa powder
1 teaspoon baking soda
½ teaspoon salt
½ cup vegetable oil
1 tablespoon cider or white vinegar
½ teaspoon vanilla extract
½ cup cold coffee
½ cup cold water
For the Whipped Dark Chocolate Cream Frosting:
180 grams of dark chocolate
¾ cup of heavy cream
Instructions
Step 1 - Preheat the oven to 180 degrees (C).
Step 2. Grease and lightly dust with cocoa a baking pan (using cocoa instead of flour to dust your pan when baking chocolate cake means you don't end up with a white film all over the outside of your cake).
Step 3 - In a large mixing bowl, sift together the flour, sugar, cocoa, salt and baking soda. Stir well to combine.
Step 4 - Into these dry ingredients, add the vinegar, vanilla and oil. Stir with a fork until your mixture resembles dry pastry dough.
Step 5 - Add the cold water and cold coffee and mix vigorously with a fork (or whisk) until smooth.
Step 6 - Pour into the prepared cake tin and place in the oven for 35 minutes.
Step 7 - Test with a skewer to see if it's done. Allow to cool slightly in the pan before removing it.
For the Whipped Dark Chocolate Cream Frosting:
Step 1 - Melt the chocolate over a double boiler or in the microwave.
Step 2 - In a mixing bowl, whip the cream until thick.
Step 3 - Add a spoonful of melted chocolate to the whipped cream. Stir to combine.
Step 4 - Continue to add the melted chocolate to the whipped cream until you have a taste and colour you're happy with. Whipping between additions to keep the frosting stiff.
Step 5 - Frost your cold cake as desired. Don't be tempted to frost it while it's still warm or you'll melt the frosting and it will run everywhere.