In this great Poppy Seed Cake recipe it's all about the poppy seeds.

There's no lemon or orange to get in the way. Just loads and loads of poppy seeds with a lovely hint of almond and vanilla.
Until I found this recipe, I was always adding extra poppy seeds to cake and muffin recipes.
I'd have to say that this is the first recipe that has had enough poppy seeds to satisfy even me. And because the poppy seeds are so generous it doesn't need the usual citrus additions.
Now I know most people automatically think of adding a citrus tang to their poppy seed cakes. But I really suggest you try it first as per the recipe and let the poppy seeds shine.
But if you won't be swayed about the magnificence of a plain poppy seed cake, add a little citrus zest and juice to the cake batter (a tablespoon of each) and a lemon or orange syrup poured over the still warm cake will transform this into a great citrus poppy seed cake. The syrup used here would work a treat.
The king of poppy seeds Lottie and Doof shares this splendid Poppy Seed Cake.

Poppy Seed Cake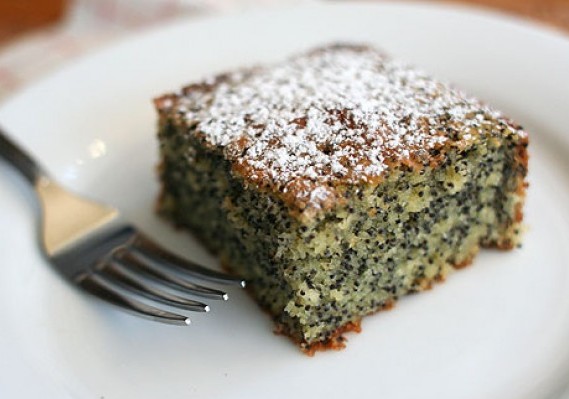 Ingredients
¾ cup poppy seeds
1⅓ cups all-purpose flour, plus more for dusting
2 teaspoons baking powder
¼ teaspoon salt
1¾ sticks (14 tablespoons) unsalted butter, softened
1 cup granulated sugar
4 large eggs
1 teaspoon pure vanilla extract
1 teaspoon pure almond extract
Confectioners' sugar, for dusting

Happy baking!