The majority of Moist Orange Cake recipes you come across either add syrup to the finished cake or use the method where you boil and incorporate whole oranges into the cake batter.
Not so with this recipe.
This Moist Orange Cake uses a cup of buttermilk for its moistness. And because there's no syrup, this orange cake is lighter and fluffier than the other styles.
Add in a sensational Orange Cream Cheese Frosting and you'll be in orange cake heaven for sure.
This Moist Orange Cake is baked with love by Daring Gourmet.

Moist Orange Cake Recipe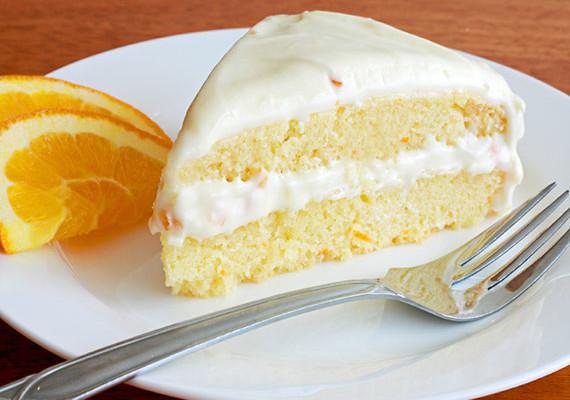 Ingredients
For the Moist Orange Cake:
2 cups all-purpose flour
1½ teaspoon baking powder
¼ teaspoon salt
2 large eggs, at room temperature
1 cup sugar
1 cup buttermilk
½ teaspoon vanilla extract
Zest of one orange (just a little over 1 tablespoon)
¼ cup butter, melted and cooled to room temperature
For the Orange Cream Cheese Frosting:
4 oz. cream cheese, softened
4 tablespoons butter, at room temperature
2 tablespoons orange marmalade
1 tablespoon fresh orange juice
½ teaspoon vanilla extract
½ teaspoon orange extract
2 cups powdered sugar