The lightest, fluffy vanilla cake recipe you can possibly imagine. And smothered in a gorgeous creamy vanilla bean butter frosting.
Cake like this is what angels eat. Pure. Simple. Heavenly.
If you want to preserve the pristine whiteness of this cake and frosting, watch the color of the butter that you use. You want a pale butter so that the cake doesn't take on a yellow hue.
And if you're really, really serious about ensuring this cake is as white as possible, you might like to consider using pure vanilla powder instead of vanilla extract in the cake batter. Vanilla powder is great for color-sensitive recipes particularly vanilla flavored white icings and frosting. Note, I'm not talking about vanilla sugar – that's a totally different product. You can find pure vanilla powder here
.
I've mentioned before that I think it's a shame that the word "vanilla" has come to mean "boring" or "dull" in modern culture. Vanilla is anything but to me. I'd say that I use vanilla, and cinnamon, more than any other flavourings – in all manner of baked goods from cakes, muffins, biscuits, crumble to pancakes to simple toppings on muesli or porridge (for a real treat try making a compote of blueberries, vanilla, maple syrup and cinnamon for topping cereals or pancakes – incredible).
But back to this cake.
This divine recipe is from the always angelic sweetapolita.com.
Like this recipe? Well you'll love this recipe which has lashings and lashings of delicious strawberry cream frosting between layers of delicate cake.

Fluffy Vanilla Cake Recipe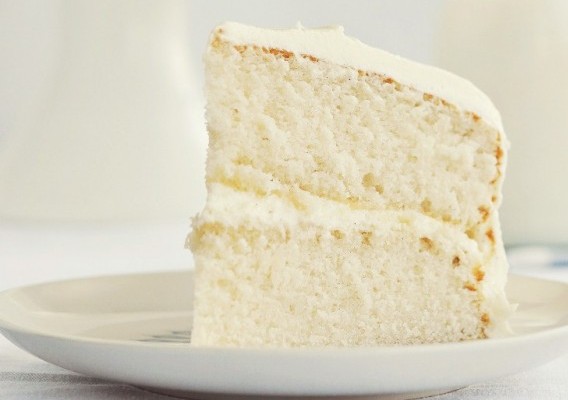 Ingredients
For the Cake:
5 large egg whites (5 ounces/150 grams) at room temperature
¾ cup whole milk (180 mL/6 liquid ounces), at room temperature
2¼ teaspoons pure vanilla extract (9 grams)
2¾ cups cake flour, sifted (11 ounces/315 grams)
1¾ cups sugar (12 ounces/350 grams)
1 tablespoon + 1 teaspoon baking powder (19.5 grams)
¾ teaspoon salt (5 grams)
12 tablespoons unsalted butter (6 ounces/170 grams), at room temperature and cut into cubes
For the Whipped Vanilla Bean Frosting:
3 sticks + 2 tablespoons (375 grams/13 ounces) unsalted butter, softened and cut into cubes
3 cups sifted (480 grams/1 lb + 1 ounce) confectioners' sugar (icing, powdered)
3 tablespoons (45 mL) milk
1 vanilla bean, scraped
1 teaspoon (5 mL) pure vanilla extract
pinch of salt

Happy baking!