Sometimes I crave a light and fluffy banana cake like this one from Food for Friends Yeah.

Easy to make, usually from the kitchen pantry, and wonderfully satisfying. It's banana loaf at it's most pure!
It's a very simple cake – look at the list of ingredients. Great for beginner bakers and kids too.
While I do love the touch of honey in the cake, it's not strictly necessary as I found out when I forgot to include it once. We all have those forgetful moments (don't we???)
What you end up with, as the name suggests, it is a lighter and fluffier version of a banana cake.
Update: Sadly it looks like Food for Friends is no more and Amy's recipe has disappeared so we can't link to it anymore. I've reproduced the recipe in full below for you.
Whether you like your banana cakes light and fluffy or dark, heavy and rich, I don't think you can have too many banana cake recipes to call on. For a denser, banana cake with nuts and a spoon-licking good caramel butterscotch sauce try this Browned Butter Banana Streusel Cake or take a look at our list of great banana cake recipes.
Light Fluffy Banana Cake Recipe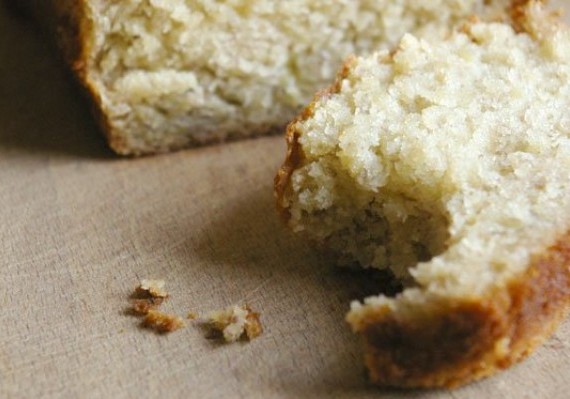 Ingredients
4oz butter
6oz sugar
2 free range eggs
3 medium bananas
1 tbsp honey
8oz self raising flour
1 tsp cinnamon
Instructions
Makes 1 loaf
Step 1 - Preheat oven to 190°C/Gas Mark 5. Line a loaf tin with grease proof paper.
Step 2 - In a large mixing bowl, cream together the butter and sugar, add the eggs and mix. Mash the bananas, and add to the mix. Stir in the honey. Sift in the flour and cinnamon and mix.
Step 3 - Pour the cake mix into the lined loaf tin.
Step 4 - Bake at for 30 minutes, then reduce to 150°C/Gas Mark 2 and bake for a further 20 more minutes. This may need adjusting for different ovens - check the cake with a knife and see if it comes out clean.