This Strawberry Shortcake Cake recipe is an utter delight. Light, fluffy layers of sponge cake brushed with a delicious rum-spiked syrup, lashings of thick cream, crunchy sliced almonds and as many strawberries as you can get your hands on, make this a truly great cake.
This is one very fancy Strawberry Shortcake.
With great strawberries – and I mean really great strawberries, this Strawberry Shortcake Cake is absolute perfection. Not to mention splendid to look at.
I can't help but remember those Strawberry Shortcake dolls of my childhood. I wonder if they're still around.
The cake master behind this delicious Strawberry Shortcake Cake recipe is The Candid Appetite.

Strawberry Shortcake Cake Recipe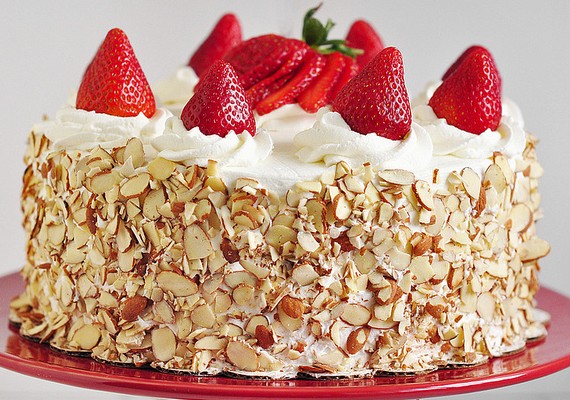 Ingredients
For the sponge cake:
6 eggs
1 cup white sugar
¼ cup water
1 teaspoon vanilla extract
1 cup cake flour
½ teaspoon cream of tartar
¼ teaspoon salt
2 pints fresh strawberries, rinsed, stemmed and sliced, reserving 9 whole berries for the top
2 cups sliced almonds
For the Rum Simple Syrup:
1 cup water
1 cup sugar
¼ cup rum
For the Whipped Cream:
3 cups very cold heavy cream
½ cup powdered sugar
1 teaspoon vanilla extract

Happy Baking!