This lovely Strawberry Vanilla Cake recipe is the perfect combination of a plain vanilla cake topped generously with fresh strawberries.
Oh Strawberries – how much do I love thee? Even more so in cake it turns out.
The baking process intensifies both the color and the flavor of the strawberries. Baking also encourages the strawberries to take on a syrupy, jam like consistency which is just gorgeous.
Serve with ice-cream or cream (why not both?) for a lovely treat that's bursting with the flavor of summer.
The splendid Kitchen Trial and Error brings you this Strawberry Vanilla Cake.
If you're looking for more sensational strawberry cake recipes like this one, have a look at our list of the best Strawberry Cake recipes.

Strawberry Vanilla Cake Recipe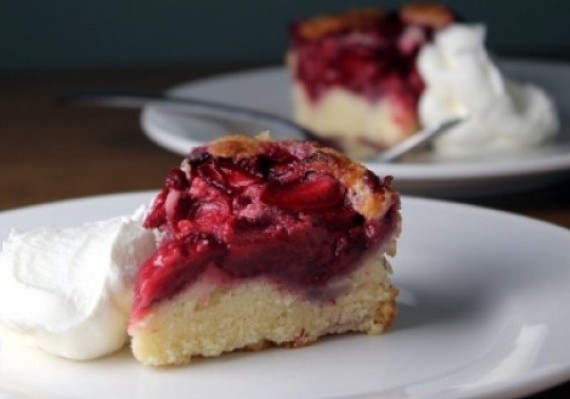 Ingredients
6 tablespoons unsalted butter, room temperature
1 cup vanilla sugar (or alternative)
1 egg, room temperature
½ cup milk, room temperature
¼ teaspoon vanilla extract
1½ cups all purpose flour
1½ teaspoons baking powder
½ teaspoon salt
1 pound strawberries, rinsed, hulled, and halved
2 tablespoons vanilla or plain sugar

Happy baking!