Can't get enough of poppy seed cake? Here's a fabulous German Poppy Seed Cake recipe to add to your baking repertoire. A soft and moist cake base, a generous layer of poppy seeds finished with a crunchy crumble topping.

There are a few reasons I particularly like this recipe. Firstly, poppy seeds – and lots of them. The poppy seed layer has a huge 200 grams of poppy seeds.
If you like your cake with as many poppy seeds as I do, you'll love this recipe.
You'll also like this cake if you're not a fan of overly sweet baked goods. While it does contain sugar, the overall flavor is more earthy, nutty and buttery thanks to the combination of poppy seeds, pastry crumble and the cake base layer.
The crumble topping is actually little pieces of shortcrust pastry which bake up all golden and crunchy. They're like small biscuits on top of the cake. I hadn't thought of using pastry in this way before but it makes a good change from the usual crumble toppings made with sugar, flour and butter (plus or minus other ingredients depending on the recipe).
Another lovely feature of this German Poppy Seed Cake recipe is that the dough base uses quark. Quark is a type of soft cheese that's very popular in Europe. It's somewhere between a light cream cheese, creme fraiche, mascarpone and yogurt. You get the idea – basically it's delicious.
While you might have to search a little, you can usually find quark in specialty grocers (including Whole Foods) or cheese shops. It's incredibly delicious and adds a lovely flavor to the cake-like base layer.  If you can't find quark, you can substitute with either light cream cheese, creme fraiche, mascarpone or yogurt.
The very creative Melina at Sugary and Buttery shares her lovely German Poppy Seed Cake recipe.
If you like the idea of baking with quark, this light and fluffy summery Quark Cake is delicious. Or stick with the seeds and have a look at these poppy seed cake recipe suggestions.

German Poppy Seed Cake Recipe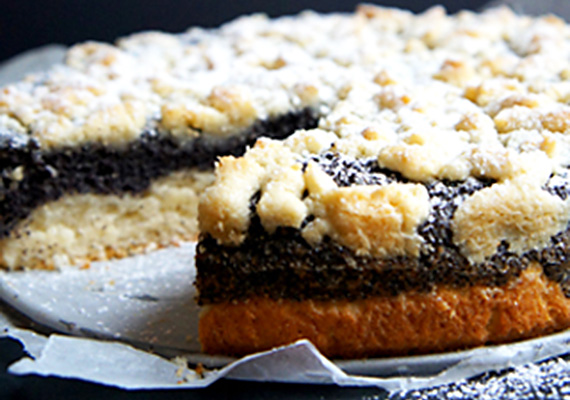 Ingredients
For the quark-dough:
150g quark
6 tablespoons milk
6 tablespoons canola oil
75g (1/3 cup) sugar
300g (2,5 cups) flour
1 tablespoons baking powder
hint of salt
For the poppy seed filling:
350ml milk
4 tablespoons butter
40g (4 heaping tbsp) wheat semolina
½ vanilla bean
4 tablespoons sugar
200g ground poppy seed
2 eggs
a hint of cinnamon
For the crumbles:
100g (3/4 cup + 1 tbsp) flour
50g (1/4 cup) butter (room temperature)
50g (1/4 cup) sugar