This Strawberry Chocolate Devil's Food Cake must be one of the richest, most decadent chocolate cakes imaginable. A seriously beautiful chocolate cake.
Swoon over layers of moist, delicious chocolate cake, divine dark chocolate ganache, luscious sweet strawberries and shavings of chocolate.
For a cake that looks so utterly amazing, this Strawberry Chocolate Devil's Food Cake recipe is not that difficult to make. The trick is the layering and colours. Choose ripe, vibrant red strawberries to contrast with the darkness of the chocolate cake, ganache and shavings.
It tastes simply out of this world and must be one of the best looking cakes around. Compliments guaranteed.
http://insimoneskitchen.com/strawberry-chocolate-devils-food-cake-2/
This recipe was originally on a site called Jungle Frog Cooking which is now known as In Simone's Kitchen.
Or if you're feeling devilish, how about this Raspberry Devil's Food Cake, or this Seven Sins Chocolate Cake.

Strawberry Chocolate Devil's Food Cake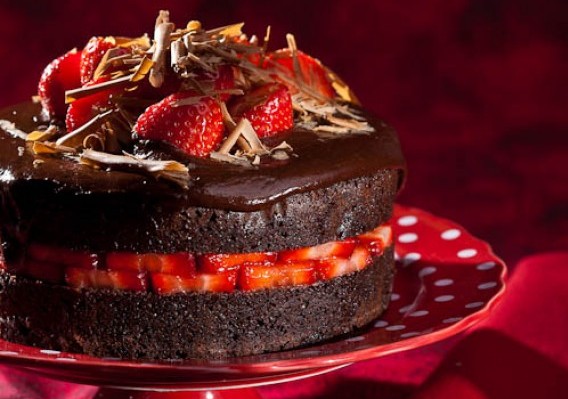 Ingredients
For the Cake:
185g butter (unsalted at room temperature)
385g sugar
1.5 teaspoon vanilla essence
3 eggs
125ml buttermilk
80ml water
300g flour
80g cocao powder
1.25 teaspoon baking soda
250g strawberries (or other red fruits)
0.5 teaspoon red food coloring (optional)
For the Ganache:
150ml cream
170g dark chocolate