If you're searching for a great chocolate pavlova recipe, this Chocolate Raspberry Pavlova is certainly worth a look.

Layers of chocolate meringue discs, sweetened whipped cream with a touch of lemon zest and lots of fresh raspberries mean this pavlova is as delicious as it is splendid to look at.
If you've never made a chocolate pavlova recipe, here's what's so surprising.
Simply adding some good quality cocoa powder will result in a lovely chocolatey meringue. It's seriously that easy to go from snowy white meringue to chocolate pavlova heaven.
The chocolate pavlova recipe queen, Sunshine's Kitchen, shares this wonderful Chocolate Raspberry Pavlova.
If you're looking for other splendid meringue cake recipes, take a peek at this Chocolate Meringue Cake.

Chocolate Pavlova Recipe: Chocolate Raspberry Pavlova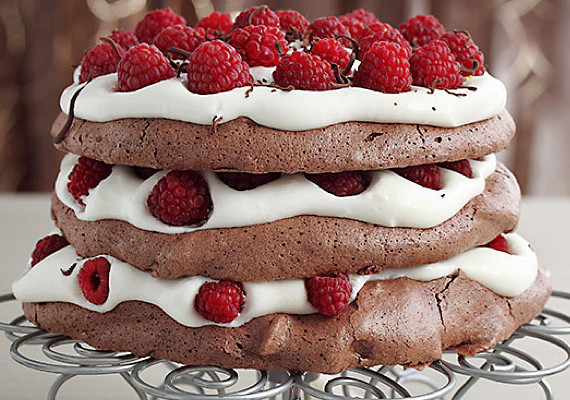 Ingredients
For the chocolate meringue
4 egg whites, at room temperature
pinch of salt
220g caster sugar
1 teaspoon vanilla
20g cocoa powder
2 teaspoons white vinegar
For the cream:
200ml whipping cream
powder sugar to taste
zest of a lemon
For the decoration:
200-300g raspberries, washed and dried
Chocolate shavings for decoration