Think about this – have you ever had a homemade strawberry cake, that's flavoured just with strawberries? I hadn't before I found this recipe.
There is nothing artificial about this cake. Just strawberries.
No food colouring, jelly crystals or other additives. All completely natural.
And it's utterly delightful.
Essentially you make a strawberry puree and incorporate that into the cake batter. Any left over puree can be used between the cake layers or folded into the frosting. Keep in mind, the redder the berries, the pinker your cake will be.
If you don't have fresh strawberries you can use frozen berries. They work just as well.
This gorgeous recipe is baked with love by Confections of a Foodie Bride.
If you're looking for strawberry cakes from scratch that don't use artificial flavouring, this recipe uses freeze dried strawberries as well as natural strawberry extract (which is different from "strawberry flavouring"). It's much more pink in colour than this recipe too, which makes for a very pretty cake.

Homemade Strawberry Cake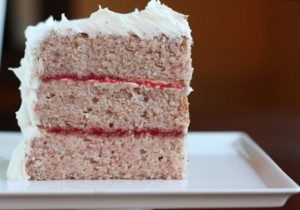 Ingredients
For the Strawberry Puree:
24 oz very ripe strawberries, hulled (or frozen)
1-2 tsp sugar (optional)
For the Cake:
Strawberry puree (above)
¼-1/2 cup milk
6 large egg whites
2 tsp vanilla extract
2¼ cup cake flour, sifted
1¾ cup sugar
4 tsp baking powder
1 tsp salt
12 Tbsp unsalted butter (1½ sticks)