This is a simply amazing recipe where the chocolate and strawberry flavors combine in the most decadent fashion.

Here we have a rich moist cake soaked in a syrup made from fresh strawberries.

That's right – fresh strawberry syrup poured all over chocolate cake. Be still my beating heart…

The syrup is intensely flavored (although you must use good strawberries to start with for maximum flavour). It gives the cake a lushness that you usually only achieve using liqueurs.
The syrup alone is pure heaven but combined with the chocolate cake – it is simply magnificent.
And if this adorable combination wasn't enough, add a chocolate ganache filling and surround it all in a cloud of whipped cream, chocolate shavings and finish with strawberries, raspberries and blueberries.
A decadent delight
There are quite a few elements to bring all of this together – none of them difficult though.
Just make sure you leave yourself enough time. Factor in that the cake needs to be assembled a few hours before serving so that the flavors have an opportunity to intensify. You also need to keep the cake refrigerated once the cream is added.
The inspiring Pratos & Travessas shares this gorgeous cake recipe.
Scroll down for the recipe in English. Note also that the recipe uses the measurement unit "dl" which stands for "deciliter". A decilitre is 1/10th of a litre, or 100 mls (millilitres). So 400 dl of double cream is 400 mls. See, you learn something every day.
Want more chocolate cakes. Check out a great collection here.

Chocolate Strawberry Cake Recipe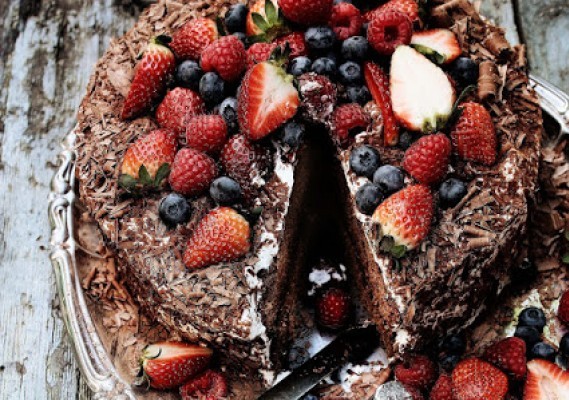 Ingredients
For the chocolate cake:
8 eggs
350 g caster sugar
280 g flour (not self raising)
40 g potato starch
40 g cocoa powder
Butter for the tins
For the syrup:
200 g strawberries
100 g caster sugar
2 dl water
For the filling and topping:
200 g good quality black chocolate cut into pieces
4 dl double cream
50 g caster sugar
Cocoa powder
Chocolate shavings
For the Decoration:
Strawberries
Raspberries (optional)
Blueberries (optional)
Instructions
For the full recipe go here.

Happy Baking!