Whether you're looking for a banana cake recipe that's gluten free or not, this is absolutely sensational and worthy of your attention.
This is another of my stand-by banana cakes (regardless of whether a gluten free is strictly required).
It's gorgeous, dense and succulent. The browned butter adds lovely toffee undertones which work so very well alongside banana. The cake has a struesel, also known as "crumble", topping for added texture.
All of this banana-crumbley-cakey goodness is then smothered in a delicious, rich, spoon-licking good caramel sauce. Yes yes yes!
The recipe as written is gluten free because it uses a special flour mix. But you could always use regular flour if gluten is not an issue for you. Either way, this cake is phenomenal.
And seriously, don't even think about missing that caramel sauce. It works so well with all of the flavours and textures of the cake and takes it to a whole new level of delicious. You'll thank me…
There a so many different types of banana cake – how about a lighter version, a chocolate one, or a somewhat childish peanut butter version? Banana cake frenzy.
This great recipe is brought to you by the cake genius of ivoryhut.com.

Gluten Free Banana Cake Recipe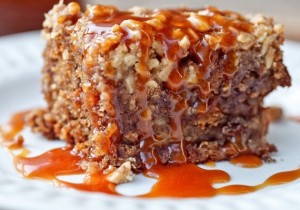 Ingredients
For the banana cake:
1 stick butter
280 grams gluten-free flour mix (or an equal amount of regular flour, about 2 cups)
1 tablespoon flax meal (optional)
1 teaspoon baking powder
1 teaspoon baking soda
1 teaspoon kosher salt
¾ cup lightly packed brown sugar
4 very ripe bananas
1 teaspoon cinnamon
¼ teaspoon freshly grated nutmeg
1 tablespoon vanilla
1 whole lemon, zested
2 large eggs
¼ cup sour cream or yogurt
½ cup chopped walnuts
For the streusel:
70 grams gluten-free flour mix (or an equal amount of regular flour, about ½ cup)
½ teaspoon cinnamon
½ cup raw sugar
¼ teaspoon kosher salt
6 tablespoons butter, cold
½ cup chopped walnuts
For the caramel sauce:
1 cup sugar
1 stick butter
½ cup heavy cream
½ teaspoon vanilla
Instructions
For the full recipe visit.