Are you familiar with Savarin? Or maybe you've heard of Rum Baba? If not, I have a treat for you today.
Savarin is a really interesting – and delicious, style of cake. Being a little unusual, I find that it's always a hit at as a dinner party dessert (and it looks pretty impressive too).
Savarin is a style of yeast cake. It's very light and delicate thanks to the use of yeast as a rising (leavening) agent. The airy cake is then soaked in a liqueur-spiked syrup and served with berries or other fresh fruit and cream.
This particular Savarin cake recipe from the talented Beth Dunham, uses generous amounts of orange zest in the cake and the syrup for a sparkling, fresh flavor.
There's basically no sugar in the cake itself (the teaspoon of sugar is used to activate the yeast). The sweetness of Savarin comes from the syrup, in this case a lovely Grand Marnier syrup that reinforces the orange flavor of the cake. Bliss on a plate.
Baking yeast cakes
If you're new to baking yeast cakes, it's a little bit different to what you're used to but not a dramatic departure. The main difference is the resting time required. Keep in mind that you are making more of a sticky dough than a batter, and like bread, it needs time to rise – about three hours all up. Be sure to factor in the extra time to your baking plans.
Another thing is to make sure that your yeast is active. It should foam up when you add it to the warm water and sugar mix. If not, your cake won't rise.
Ensure the water you use to bloom the yeast is warm – too hot or too cold will render the yeast useless. If your yeast is old or has been stored incorrectly it also won't work. But the good thing about yeast is that you know in advance if it's OK or not – just look for the foam and you'll be fine.
Savarin
I really enjoyed reading about Beth's expereince with baking Savarin, especially because there's a happy ending which resulted in this great recipe. Beth admits to initially not liking the process of making this Savarin. Actually that's an understatement, she "hated it":
The dough is really wet and slimy, not pleasant at all.  In fact, the first time I attempted this recipe I killed my food processor.  I tried using the plastic dough blade- my trusty Cuisinart made some loud noises, there was a weird smell, and things got ugly. Since then, I've mixed this by hand a few times, but not often, too much work.
What changed Beth's mind was a new food mixer with a bit more power that was able to mix the sticky dough with ease.  If you do have a good mixer, Savarin is pretty easy as everything is done in the mixer. But be aware – if you're thinking of making Savarin without a good mixer, it could turn into a labour of love.
One last word on Savarin – perhaps some trivia for when you serve it at your next dinner party. Savarin is named after a famous 18th-century food writer Brillat-Savarin. While you may never have heard of this man (he pretty much started the whole writing-about-food-trend that has evolved into modern day food blogs), you may be familiar with one of his quotes that is used on the worldwide TV show phenomenon, Iron Chef:
"Tell me what you eat, and I will tell you what you are."
This wonderful Savarin cake recipe is shared by Beth Dunham on her self-titled blog.
If you're looking for more yeast cake recipes, may I suggest this great Plum Cake.

Savarin Cake Recipe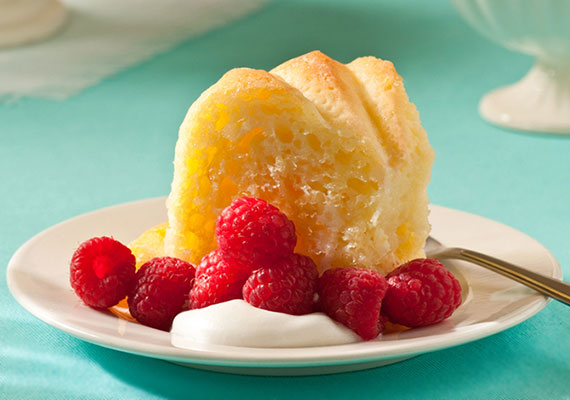 Ingredients
For the Savarin Cake:
Active dry yeast
Sugar
Salt
Warm water
Eggs, lightly beaten
Milk
Orange zest
Flour
Butter, softened
For the Grand Marnier Syrup:
Water
Sugar
Orange zest (use a vegetable peeler for large strips)
Grand Marnier
Instructions
For the full recipe please visit: Savarin