I do love a Baked White Chocolate Cheesecake from time to time (I'm sure you're completely shocked to learn this).
A couple of things caught my attention about this particular Baked White Chocolate Cheesecake recipe.
The first is that it doesn't use biscuits for it crumb base. You make your own base using rolled oats, butter and sugar.
The other unusual thing about this recipes is that the cheesecake filling uses yogurt cheese and mascarpone.
And it's not only strawberries you can use on the top. Other kinds of berries, fruits, white chocolate curls, or a decadent caramel sauce would be great – the possibilities are endless.
This Baked White Chocolate Cheesecake is from Divina at Sense and Serendipity.
Interestingly, I'm not that big a fan of white chocolate, but I do love white chocolate cakes and cheesecakes. Here's another fabulous white chocolate cheesecake that has an incredibly decadent and rich caramel sauce.

Baked White Chocolate Cheesecake Recipe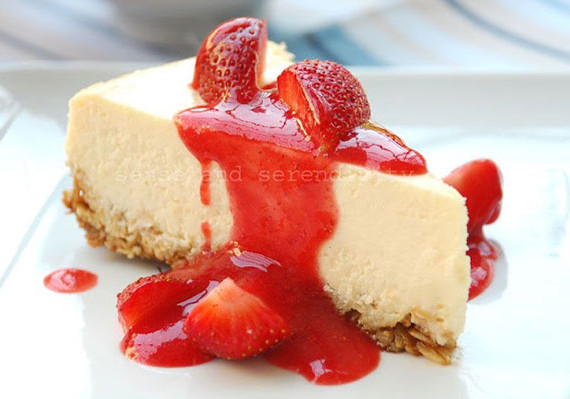 Ingredients
For the Crust:
⅓ cup butter (about 3 oz)
2 cups rolled oats
½ cup muscovado sugar
For the Filling:
1 lb yogurt cheese (see note on recipe)
1 lb mascarpone cheese
2 tbsp honey
3 eggs
1 egg yolk
1 lb good quality white chocolate
1 tbsp pure vanilla extract
To serve:
1 ½ lbs fresh strawberries
2-3 tbsp granulated sugar/natural cane sugar
1 tbsp lemon juice