A Salted Caramel Chocolate Cake for those days when you need a treat that is seriously indulgent, incredibly decadent – basically sinful.
This Salted Caramel Chocolate Cake is a cake to be reckoned with.
There are four layers of rich chocolate cake smothered in a salted caramel sauce worth dying for, and surrounded by a cloud of dark chocolate ganache. The caramel sauce soaks through the cake and makes it all gooey, sticky and sweet with a salt spike now and again.
Drizzle a little more dark chocolate for decoration and brace yourself for a taste sensation. Swooning yet?
As I said before, sinful.
The queen of luscious indulgence Stephanie Arsenault at Global Dish shares this wickedly good Salted Caramel Chocolate Cake.

Salted Caramel Chocolate Cake Recipe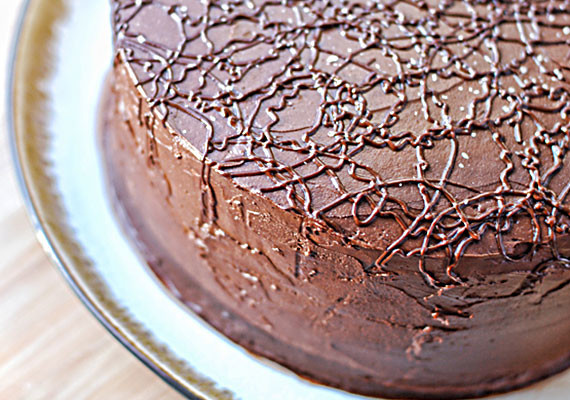 Ingredients
For the Chocolate Cake:
1 cup cocoa powder
1 teaspoon instant espresso powder
1 ½ cups boiling water
2 cups all-purpose flour
1 cup granulated sugar
¾ cup brown sugar
1 ½ teaspoons baking powder
1 ½ teaspoons baking soda
½ cup salted butter, melted
2 eggs, at room temperature
2 teaspoons pure vanilla extract
2 tablespoons white rum
For the Salted Caramel Sauce:
½ cup cold water
1 cup granulated sugar
1 cup whipping cream
1 generous tablespoon pure vanilla extract
Pinch sea salt
For the Rich Chocolate Ganache:
10 ounces good quality dark chocolate
1 cup whipping cream
½ teaspoon pure vanilla extract
Pinch sea salt