This lovely Carrot Cake with Cream Cheese Frosting is definitely a worthy addition to my ever expanding carrot cake collection. I've already admitted to a slight obsession with carrot cake recipes. You can never have to many in my view.
I think the votes are in on combining Carrot Cake with Creme Cheese Frosting. And it's a resounding "yes".  But other combinations and additions to carrot cake recipes can be a touchy subject.
Do you like your carrot cake with or without pineapple? With or without walnuts? Coconut – yes or no?
And then there's this carrot cake for carrot cake purists: Just Carrot Carrot Cake. Yep. Just carrots in that baby.
But this Carrot Cake with Cream Cheese Frosting recipe caught my eye for another possible inclusion. Apart from the layers and layers of delicious carrot cake and cream cheese frosting, what stood out in this carrot cake recipe is the option to substitute dried cranberries for raisins. I haven't seen that particular substitution before but it makes perfect sense really.
I'm a big fan of dried cranberries for their colour, flavour and how well they stand-up in baking so I really like this idea. It also got me thinking of how many other cakes you could substitute cranberries for sultanas or raisins, or maybe use a combination of both. I'll be keeping this in mind.
This lovely Carrot Cake with Cream Cheese Frosting (plus or minus cranberries as you please), is from the creative kitchen of My Baking Addiction.

Carrot Cake with Cream Cheese Frosting Recipe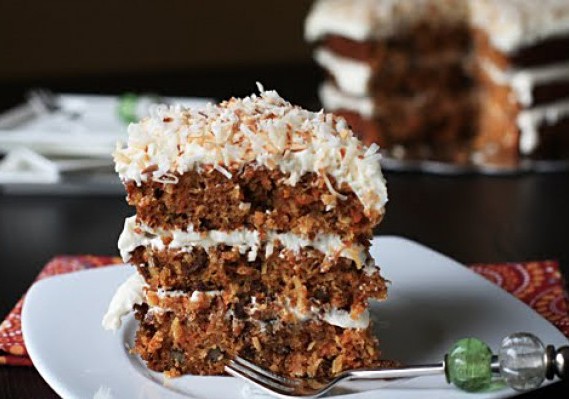 Ingredients
For the Cake:
2 cups all purpose flour
2 teaspoons baking powder
2 teaspoons baking soda
2 teaspoons ground cinnamon
¾ teaspoon salt
3 cups grated carrots (about 9 carrots)
1 cup coarsely chopped walnuts or pecans
1 cup shredded coconut (sweetened or unsweetened)
½ cup moist, plump raisins (dark or golden) or dried cranberries
2 cups sugar
1 cup canola oil
4 large eggs
For the Frosting:
8 ounces cream cheese, room temperature
1 stick (8 tablespoons) unsalted butter, at room temperature
1 pound or 3 and ¾ cups confectioners' sugar, sifted
1 tablespoon fresh lemon juice or ½ teaspoon pure lemon extract (or ½ teaspoon of pure vanilla extract)
½ cup shredded coconut (optional)

Happy Baking!