This triple chocolate cheesecake recipe is a force to be reckoned with.

I'd love to wax lyrically about this decadent chocolate cheesecake treat but really, what part of "triple chocolate cheesecake" needs further explanation. Just look at that luscious silky chocolate texture and chocolate biscuit crust.
Triple – Chocolate – Cheesecake. Enough said really (except for "Wow").
But if you do need further explanation, there are chocolate cookies in the crust, bittersweet chocolate, cocoa and serious amounts of cream cheese in the cheesecake filling, and more bittersweet chocolate plus cream in that wonderful ganache topping.
Convinced yet?
The cheesecake genius behind this amazingly rich and utterly sinful Triple Chocolate Cheesecake is Oui Chef.
Interested in another triple choc wonder? You might like this dark, milk and white chocolate cheesecake with walnuts.

Triple Chocolate Cheesecake Recipe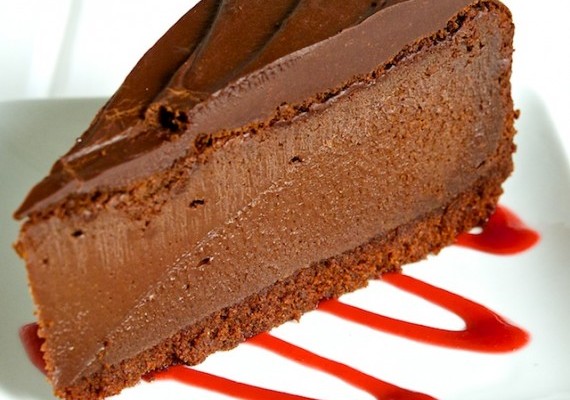 Ingredients
For the Crust:
9 ounces chocolate wafer cookies (like Chocolate Teddy Grahams)
1 tablespoon sugar
¼ cup (1/2 stick) butter, melted
For the Filling:
10 ounces 70% bittersweet chocolate, chopped (like Callebaut 70%)
4 (8 ounce) packages cream cheese at room temperature
1¼ cups plus 2 tablespoons sugar
¼ cup unsweetened cocoa powder (like Vahlrona)
4 large eggs
For the Ganache Topping:
¾ cup whipping cream
6 ounces 70% bittersweet chocolate, chopped (like Callebaut 70%)
1 tablespoon sugar

Happy baking!