This baked white chocolate cheesecake recipe is fabulously decadent.

There's something about smothering cheesecake (white chocolate cheesecake at that) in a rich caramel sauce that sets my heart aflutter.
And any wonder it tastes so good, there's half a pound of white chocolate in the cheesecake filling.
That much white chocolate gives some pretty intense flavour. Add the luscious caramel sauce and one slice won't be nearly enough.
The cake virtuoso behind this White Chocolate Cheesecake Recipe is Not So Humble Pie.
The Answer Is Cake loves cheesecake recipes. Check out our decadent collection of cheesecake recipes here. Prepare to swoon.

White Chocolate Cheesecake Recipe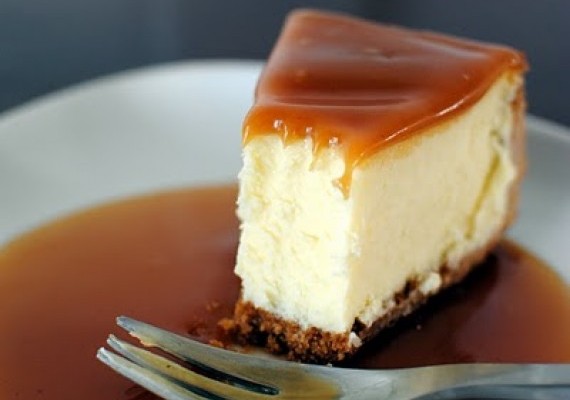 Ingredients
For the crust:
10 ounces plain biscuits (like graham crackers), crushed into crumbs
7 tablespoons unsalted butter
For the Cheesecake Filling:
3 8-ounce packages of cream cheese, room temperature
1¼ cups granulated sugar
½ cup heavy cream
8 ounces good quality white chocolate, chopped
5 large eggs
1 teaspoon vanilla extract
pinch salt
For the Caramel Sauce:
1½ cups granulated sugar
1¾ teaspoons lemon juice
1 pint heavy cream
4 tablespoons unsalted butter