Let me ask you – is this the first goat cheese cheesecake you've seen where you've wanted to lick you screen?
Are you looking for a cheesecake recipe with a difference? Something a little sophisticated? Do you enjoy the tangy freshness of crème fraîche? Are you a fan of goat cheese? If you answered "yes" to any of these questions, or if I at least piqued your curiosity, read on my cheesecake-loving friends.
There is so much to say about this seriously impressive cheesecake, I simply don't know where to start.
So as the song goes, let's start at the very beginning – the cheesecake part. This cheesecake sets itself apart from your usual cheesecakes in that it uses fresh goat cheese.
Now you may think goat cheese would be too overpowering for a cheesecake but it simply isn't. The goat cheese is perfectly balanced by the equivalent amount of creme fraiche and a good quantity of cream cheese. The result is a cheesecake with a well rounded and full flavour and little more tang than other styles, but it is definitely not overpowered by goat cheese. Trust me. I don't mind a little goat cheese in a salad but I prefer milder cheeses generally (get that smelly blue cheese away from me).
Back to the point now – all of this cheesecake heaven is complement by the utterly divine zesty Lemon Blueberry Compote on top. The recipe calls for fresh blueberries but frozen would work just as well.
For better or worse there is no crust. If you must have a crust on your cheesecake you could always add one, but try it once without. Please. Perhaps you will be so bowled over by the taste of this amazing cheesecake you might not even miss it.
This inspired Goat Cheese Cheesecake with Lemon-Blueberry Compote is shared by the very talented The Novice Chef.
Not quite the cheesecake recipe you were looking for today? The Answer Is Cake loves, loves, loves cheesecake recipes. How about this phenomenal Triple Chocolate Cheesecake. Swoon worthy I guarantee.

Goat Cheese Cheesecake Recipe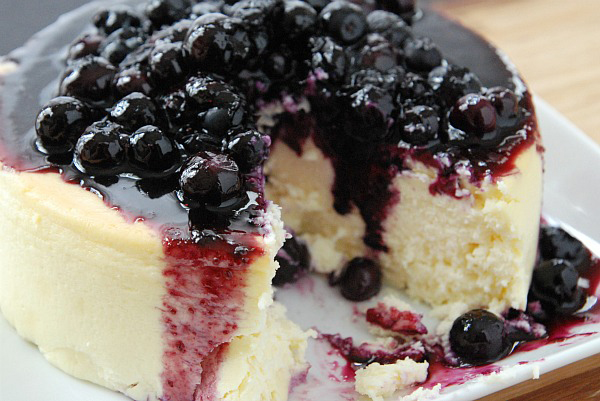 Ingredients
For the Crème Fraîche Cheesecake:
1½ cups cream cheese, room temperature
½ cup fresh goat cheese, room temperature
½ cup sugar
1½ cups crème fraîche
1 teaspoon vanilla extract
¼ teaspoon black pepper
4 large eggs
For the Lemon-Blueberry Compote:
2½ cups fresh blueberries
⅓ cup sugar
1 tablespoon lemon zest
2 tablespoons lemon juice
¼ cup water

Happy Baking!