This gorgeous Lemon Poppy Seed Pound Cake is just bursting with beautiful sparkling lemon flavor.
With lemon zest in the cake and a delicious lemon syrup, every bite of this cake is a mouthful of happiness.
The rich buttery flavor of pound cake is a perfect base for the lemon flavor to shine through. The poppy seeds give a lovey crunch and slight earthiness.
For maximum flavor, make this cake a day ahead. The extra time allows the lemon flavor to intensify and distribute through the cake more evenly.
The lemon syrup adds an intense taste sensation and it also has an additional benefit. The syrup actually keeps the cake fresher for a few days longer than a cake without syrup. Not that left-over cake is likely to be a problem. It's too delicious to last very long.
This slice of sunshine Lemon Poppy Seed Pound Cake is from the very talented  The Kitchen Sink.
If you like poppy seeds, this plain Poppy Seed Cake is all about the seeds. I've never seen so many poppy seeds in a cake recipe.

Lemon Poppy Seed Pound Cake Recipe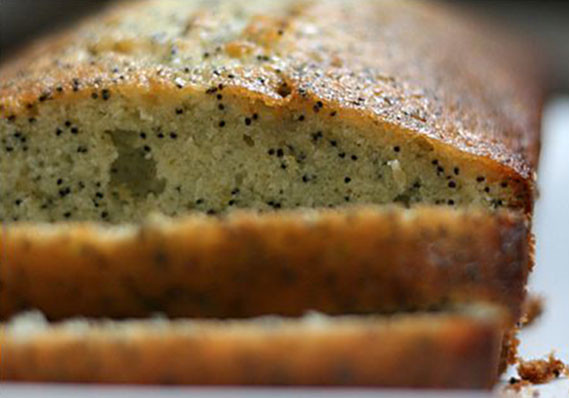 Ingredients
For the cake:
3 tablespoons milk (1.5 ounces = 45 grams)
3 large eggs (scant 5 fluid ounces = 5.25 ounces = 150 grams, weighed without shells)
1½ teaspoons vanilla (6 grams)
1½ cups sifted cake flour (5.25 ounces = 150 grams)
¾ cup sugar (5.25 ounces = 150 grams)
¾ teaspoon baking powder (3.7 grams)
¼ teaspoon salt
1 tablespoon loosely packed grated lemon zest (6 grams)
3 tablespoons poppy seeds (1 ounce = 28 grams)
13 tablespoons unsalted butter, softened (6.5 ounces = 184 grams)
For the Lemon Syrup:
¼ + 2 tablespoons sugar (2.75 ounces = 75 grams)
¼ cup freshly squeezed lemon juice (2 ounces = 63 grams)