A Mandarin Cake that will bring a smile to your face. Like most good citrus cakes, it's like you've baked sunshine in a cake.
I call these little orange-like citrus fruits, mandarins, but they're also known as clementines, so you may call this a "Clementine Cake".
The fragrance, sweetness and zesty citrus fruitiness of the mandarins is utterly delightful in this recipe. Made with almond flour, this is a moist and dense, gluten-free cake. Freshly grated ginger adds a lovely subtle complexity to the flavor.
Like many flourless orange cakes, in this recipe the whole mandarin is boiled, and the fruit – rind and all, is pureed and added to the cake batter. Using whole mandarins this way is really brilliant. Although I love whole orange cakes, you have to be sure your oranges are sweet enough and the pith not too thick so your cake doesn't end up bitter. But with mandarins you don't have to worry about this at all. Inspired!
This sunny Mandarin Cake is from the kitchen of A Tasty Love Story.

Mandarin Cake Recipe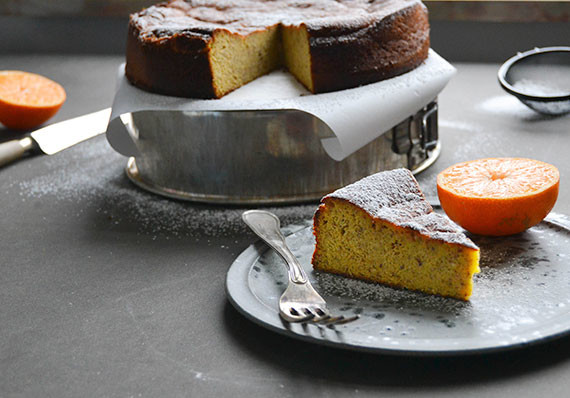 Ingredients
2 cups almonds (250 g) – grinded into flour
4-5 organic clementines (approximately 375 g)
6 eggs
¾ cup sugar (150 g)
1 vanilla bean, scraped
4 tsp fresh grated ginger (adjust to taste)
1 tsp baking powder
A pinch of salt
Powdered sugar or liquorice powder to dust