Yes I'm sharing yet another lemon cake recipe, but this Lemon Bundt Cake from Scratch is just too good to keep to myself.
This lemon bundt cake sure packs a big flavor punch with the zest of five lemons, fresh lemon juice and a little tangy yogurt.
Finished with a glaze made with more fresh lemon juice and sugar, this is a lemon cake lover's delight.
Making this lemon bundt cake from scratch is so easy. It goes to show that you really don't need to use nasty packet cake mixes. The incy-wincy tiny bit more effort you need for this lemon cake recipe is more than worth the incredibly superior cake you end up with. Trust me on that.
A word about the lemon zest. Before you start zesting you need to give your lemons a good scrub to remove the wax coating usually found on store-bought lemons. Once the wax is off, zest very lightly. You want to avoid grating off the white pith which is bitter. Your lemon should still look quite yellow once you've removed the very thin top layer of zest.
The ever zesty Sukarah shares this lovely Lemon Bundt Cake from Scratch.
If you like this lemon cake, you'll enjoy this list of 10 of the Best Lemon Cake Recipes.
Lemon Bundt Cake from Scratch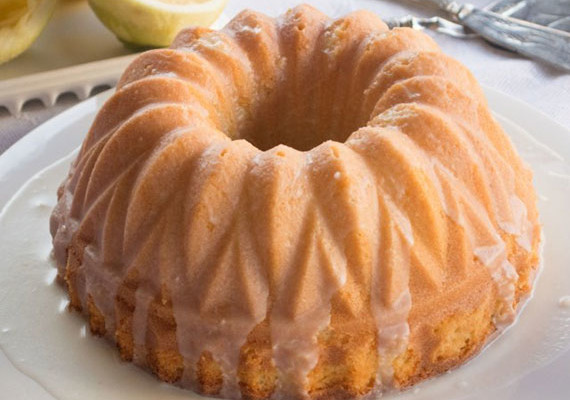 Ingredients
For the cake:
¾ cup (200 g) unsalted butter,
3 cups (345 g) all purpose flour
2 tsp baking powder
2 tsp kosher salt
2 cups (400 g) white sugar
Zest of 5 lemons, finely grated
4 large eggs
½ tsp vanilla extract (optional)
1 cup (235 g) yogurt
¼ cup fresh lemon juice
For the Lemon Glaze:
⅛ cup (31 ml) fresh lemon juice
1 cup (115 g) powdered sugar