A recipe for Chocolate Fudge Cake that will knock your socks off.
Words like "decadent" and "indulgent" were invented to describe chocolate cake like this.
If you've ever lusted after that wonderful fudgey cake texture and wondered how to make your own chocolate fudge cake at home, this is a great recipe to start with. It's not difficult and you're rewarded with a seriously rich and moist chocolate fudge cake.
Smother your fudge cake in a dark chocolate ganache and you'll be wondering where this recipe has been all of your life.
This recipe for Chocolate Fudge Cake is from the splendid Cake Crumbs and Beach Sand.

Recipe for Chocolate Fudge Cake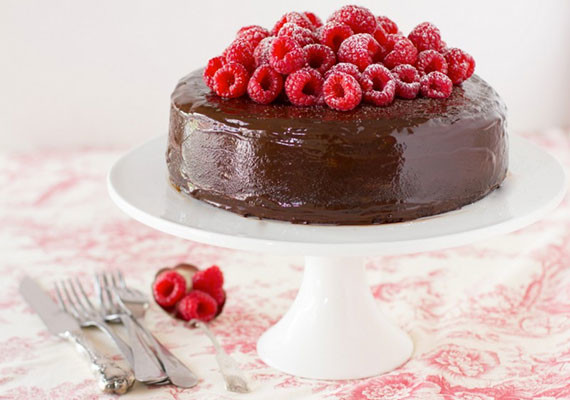 Ingredients
For the Chocolate Fudge Cake:
200g good quality dark chocolate, broken into pieces
400ml whole milk
450g light muscovado sugar
150g unsalted butter, softened
4 large eggs
1 tsp vanilla bean paste (or 1tbsp vanilla extract)
½ tsp salt
250g plain flour
50g unsweetened cocoa powder
2 tsp bicarb soda/baking soda
3 punnets raspberries
For the Chocolate Ganache:
200g premium quality dark chocolate, broken into pieces
150ml cream
50g butter