You'll struggle to find a Chocolate Zucchini Cake that's easier to make than this one.

I don't think I'll ever really understand how the zucchini-in-cake magic works – but it really does. And this cake is proof.
This is a fabulous recipe for an incredibly moist and fluffy chocolate cake. Smother it in the luscious Chocolate Fudge Frosting and no one (especially the kids) will know is packed full of good-for-you zucchinis. They'll all be begging for more.
The cake is super-moist thanks to the zucchini, and also quick and easy. Basically, if you can grate zucchinis you can bake this cake.
So give it a shot and brace yourself for compliments.
The baking wizard responsible for this magical Chocolate Zucchini Cake is Plump Me Up.
Want to try another zucchini cake recipe? This is a superb Zucchini Carrot Cake or this Chocolate Chip Zucchini Cake is always a winner.

Easy Chocolate Zucchini Cake Recipe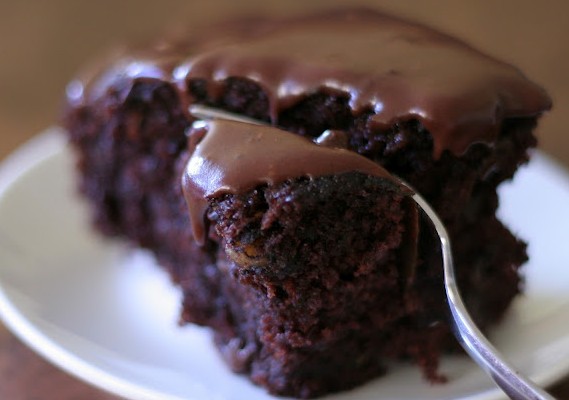 Ingredients
For the Chocolate Zucchini Cake:
2 cups all-purpose flour
2 cups white sugar
¾ cup unsweetened cocoa powder
2 teaspoons baking soda
1 teaspoon baking powder
½ teaspoon salt
1 teaspoon ground cinnamon
4 eggs
1½ cups vegetable oil
3 cups grated zucchini
¾ cup chopped walnuts (optional)
For the Fudge Frosting:
2 cups sugar
1 cup unsweetened baking cocoa
1 cup milk
½ cup butter/margarine
¼ cup light corn syrup
¼ teaspoon salt
2 teaspoons vanilla
2½- 3 cups powdered sugar

Happy baking!