A Banoffee Cheesecake recipe to impress. So good I don't know where to start.

Here goes – this is a deep dish cheesecake with a biscuit base and sides, a banana cheesecake filling, layer of caramelised banana, layer of toffee and finished off with a meringue topping. Sounds pretty amazing doesn't it?

What is banoffee? There's a flavor clue in the name.
"Ban" from banana and "offee" from toffee. Banana toffee! A match make in heaven.
There are a couple of things I particularly like about this Banoffee Cheesecake recipe.
One is that it uses fresh bananas in the cheesecake, not banana flavoring.
Another is the biscuit base and sides. The recipe suggests using dried fig and wheat biscuits. The dried figs have a natural toffee taste which complements the toffee layer and caramelised bananas perfectly.
Of course, if you can't get your hands on biscuits with dried figs, you can make with a plain biscuit base instead. It will still be utterly delicious.
Watch the depth of the pan you use. This is a pretty tall cheesecake. You can buy deep spring-form pans for creations like this. The good thing about the deep pans is that you can bake regular cakes and cheesecakes in them, but for those special, extra deep cakes like this, you're all set. This is a good example of what I mean: Deep Spring Form Cake Pan
This sensational Banoffee Cheesecake recipe is from the lovely Belinda at The Moonblush Baker.

Banoffee Cheesecake Recipe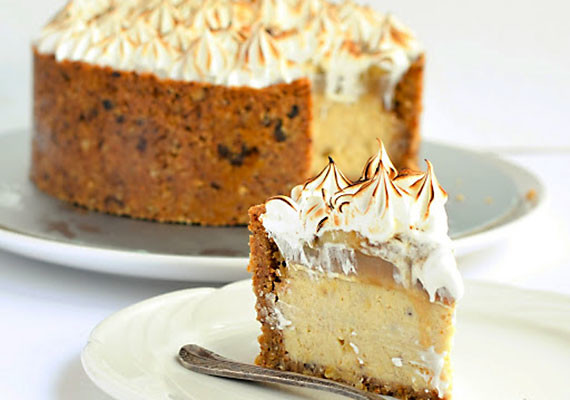 Ingredients
For the cheesecake base:
300g dried fig and wheat bran crackers.
90g butter, melted
For the cheesecake:
500g cream cheese
3 egg yolks
1 egg
1 tbsp lemon zest
3 overripe bananas
100g raw caster sugar
For the toffee topping:
50g golden syrup
200g double cream
80g brown sugar
125 g butter
For the caramelised bananas:
One large banana
50g raw caster sugar
For the Italian meringue:
20g water
150g white caster sugar
100g egg white