Care for a slice of Pluot Cake?

Never heard of a Pluot Cake? Never heard of pluots? You're not alone there. I had no idea but was intrigued – after all, how good does this cake look?
Essentially, if you cross a plum ("plu") and an apricot ("ot") you end up with a pluot.
Sweet and juicy – not quite plum, not quite apricot but certainly delicious. And where there's tasty summer stone fruit – cake recipes are sure to follow.
This Pluot Cake recipe takes this little known fruit and teams it with a lovely simple vanilla cake. And like plums and apricots, the pluot flavor and color intensifies with baking to give you a delicious – and easy, summer cake.
Drizzle over the milky vanilla icing and you're set for a real treat – and probably a conversation about pluots with whoever you share this cake with.
No pluots? Well you can easily use plums or apricots instead.
The adventurous Cooking Bride shares this wonderful Pluot Cake recipe.

Pluot Cake Recipe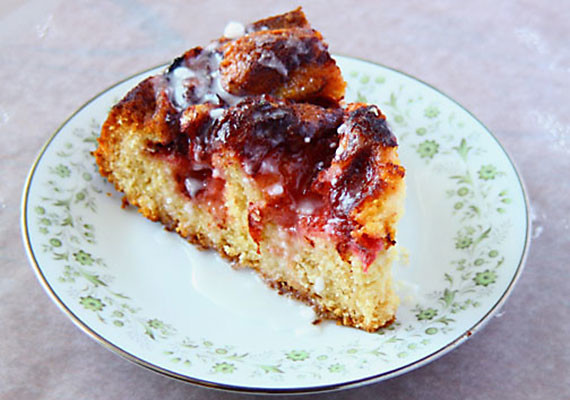 Ingredients
For the Pluot Cake:
4 pluots or 4 to 5 plums, about 1½ pounds, pitted, peeled, and thinly sliced
1 ¼ cups plus 2 tablespoons granulated sugar, divided
¾ cup butter (12 tablespoons), softened
3 large eggs
1½ teaspoons vanilla
1¾ cup all-purpose flour
2 teaspoons baking powder
½ teaspoon salt
2 tablespoons granulated sugar
1 teaspoon cinnamon
For the Icing:
2 cups confectioners' sugar
2 tablespoons milk, divided
1 teaspoons vanilla