When I first encountered this Raspberry Swirl Pound Cake, at a big morning tea event, I had no idea where the original hailed from.
You see my friends, this Raspberry Swirl Pound Cake is a copy of a Starbucks cake.
Now I'm not a lover of Starbucks coffee, and I'm fairly anti most processed or mass produced foods, so I had no idea a cake this tasty could be made by Starbucks. But it seems that it is indeed a cake worth copying and Megan from Country Cleaver has done a great job here.
A homemade version of a Starbucks cake – I can live with that! Especially when it is this good.
Now, keep in mind that I still haven't tried the Starbucks original so I'm taking Megan's word on how similar the versions are. But this is a great pound cake recipe in its own right so you won't be disappointed.
This is an utterly delicious and incredible easy loaf pound cake. With a spoon-licking good cream cheese frosting.
The very clever Megan at Country Cleaver shares her copy of Starbucks' Raspberry Swirl Pound Cake.
For more pound cake delights, these Orange Pound Cakes are always a winner with their big orangey flavor.

Raspberry Swirl Pound Cake Recipe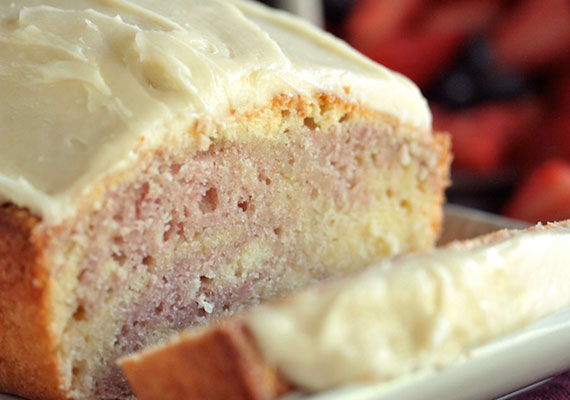 Ingredients
For the Raspberry Swirl Pound Cake:
Butter, softened
Milk
Eggs
Raspberry Extract (Optional - adds flavor if raspberries aren't ripe enough)
Vanilla Extract
Almond Extract
Cake Flour
Sugar
Baking Powder
Raspberries
For the Cream Cheese Frosting:
Butter, softened
Cream Cheese, softened
Powdered Sugar