Quite possibly the very Best Gingerbread Cake recipe that you'll come across.

This Gingerbread Cake recipe is rich and delicious and incredibly easy to make.
And your kitchen will smell absolutely heavenly as this cake bakes.
With molasses for a deep, intense flavor and extra spice from cinnamon and cloves, this traditionally festive treat is too good to only have once a year.
Once baked, sprinkle with a little icing sugar and you're done.
The baking genius behind what I think of as the best Gingerbread Cake recipe is Ceci N'est pas un Food Blog.
For more wonderful ginger flavored cakes, take a look at this Fresh Ginger Cake with Pears or this Coffee and Ginger Cake.

Best Gingerbread Cake Recipe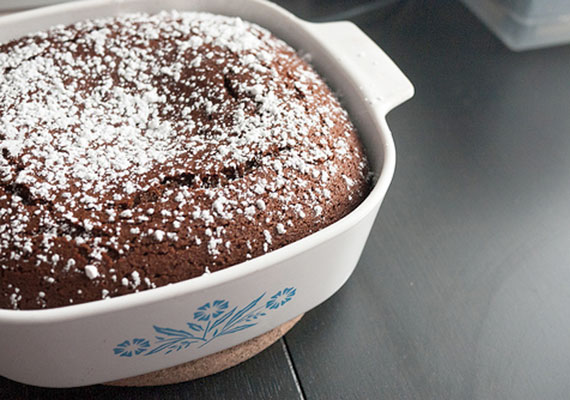 Ingredients
½ cup/4 oz (125 mL/227 g) butter
⅔ cup (170 mL) brown sugar, packed
1 egg
1 cup (250 mL) molasses
2½ cups (625 mL) flour
½ tsp (2 mL) salt
1½ tsp (7 mL) baking soda
1 tsp (5 mL) ground ginger
1 tsp (5 mL) cinnamon
¼ tsp (1 mL) cloves
1 cup hot (not boiling) water
Instructions
Step 1 - Preheat the oven to 350˚F (175˚C). Grease an 8″ x 8″ baking pan.
Step 2 - Cream shortening/butter. Gradually add the sugar, then the egg. Beat until light and fluffy.
Step 3 - Add the molasses and mix until just blended.
Step 4 - In a medium bowl whisk together the dry ingredients. Add to the batter, ½ cup (125 mL) at a time, alternating with ¼ cup (60 mL) water. Beat until smooth after each addition. Pour into prepared pan.
Step 5 - Bake for 45-50 minutes, or until a tester comes out clean.
For the full recipe, please visit best Gingerbread Cake recipe.