When is a Passionfruit Cake not a passionfruit cake? When it's actually a lime cake with a heavenly passionfruit sauce.

I struggle to think of these cakes as lime, they are passionfruit cakes through and through for me.
The kick-in-the-pants flavor sensation comes from the gorgeous passionfruit sauce.
These lovely little cakes are only very subtly lime flavored, which provides a perfect background for the passionfruit sauce to shine.
Passionfruit is such an intense taste extravaganza. Fresh passionfruit pulp can be a little on the tart side. That's not an issue here as the syrup is sweetened with sugar. How sweet is entirely up to you. I like a little bite to my passionfruit.
And for even more passionfruit cake heaven, the accompanying cream can be spiked with more passionfruit. Bliss!
The ever delightful Jen at I Love Milk and Cookies shares her gorgeous recipe for Passionfruit Cake.
Want more passionfruit cake delights? This Passionfruit Cheesecake is utterly divine.

Passionfruit Cake Recipe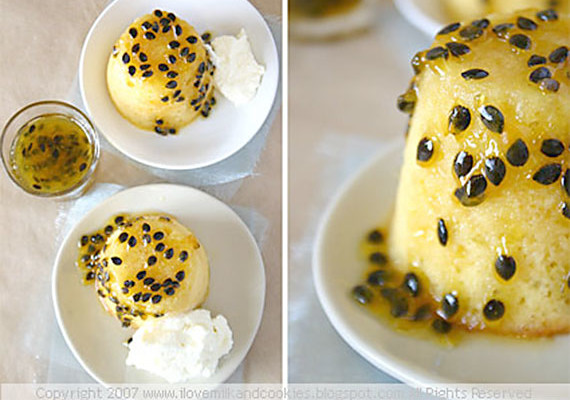 Ingredients
For the Lime Cakes:
125g soft butter
165g (¾ cup) caster sugar
2 tbsp finely grated lime rind
3 eggs
120g (½ cup) sour cream or plain yoghurt
150g (1 cup) self-raising flour
For the Passionfruit Sauce:
110g (½ cup) caster sugar
80ml (1/3 cup) lime juice
3 passionfruit, pulp only
For the Passionfruit Cream:
300ml thickened cream
1 passionfruit, pulp only (optional)
30g pure icing sugar, sieved