Super easy tea cake. Packed full of medjool dates and pecans, with a banana added for extra sweetness.

Full of flavour and texture with a healthy (well healthier) twist.
This cake is so full of flavour all by itself that it doesn't even need a topping. You know a cake's good when that's the case.
Delicious.
The baker behind this surprising Butterscotch Date Tea Cake is My Recession Kitchen.

Butterscotch Date Tea Cake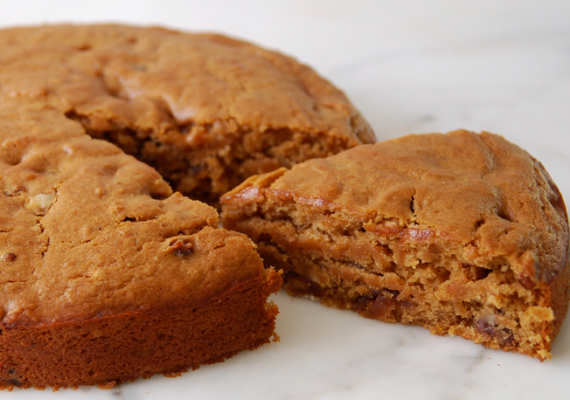 Ingredients
1 cup unsweetened almond milk (or whatever you use)
2 teaspoons apple cider vinegar
1 cube (stick) nondairy butter
1 cup coconut palm sugar (or raw sugar)
1 teaspoon pure vanilla extract
1 small ripe banana
1 cup white whole wheat flour
¾ cup + 2 Tablespoons unbleached white flour
2 teaspoons baking powder
½ teaspoon salt
6 large medjool dates
½ cup coarsely chopped pecans

Happy baking!