You know how I love a twist on a classic recipe, well this Blueberry Shortcake fits that bill nicely.

If you like Strawberry Shortcake, and were delighted to discover this Raspberry Shortcake a while back, the next recipe you need in your life is for Blueberry Shortcake.
And this Blueberry Shortcake recipe is a doozy.
What makes this recipe particularly good, is that the very clever Heidi from Lip Smacking shares her secret technique for the blueberry compote. And it is indeed a cut above other blueberry sauces – keep it in mind any time you make a berry compote like this.
Shortcakes are always such a crowd pleaser and are so very easy to make. If you're feeling particularly creative you could do a mix of strawberry, raspberry and blueberry shortcakes. Watch how quickly those babies disappear at your next supper, morning or afternoon tea.
This Blueberry Shortcake recipe is from the baking genius of Heidi at Lip Smacking.

Blueberry Shortcake Recipe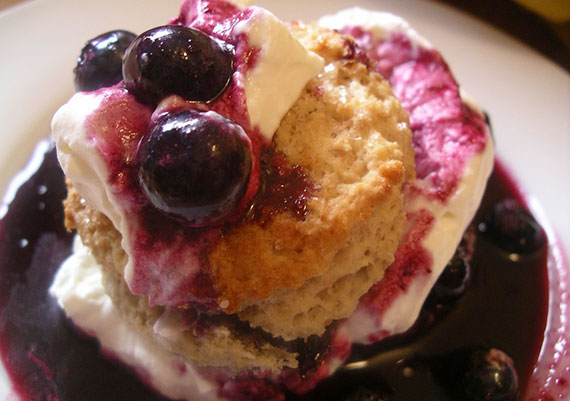 Ingredients
For the Shortcake:
1-1/2 cups all-purpose flour
½ cup whole wheat flour
½ tsp salt
½ tsp baking soda
2 tsp baking powder
4 Tb sugar, divided
½ cup cold unsalted butter
1-1/4 cup full-fat sour cream
For the Blueberry Compote:
8 cups fresh ripe local blueberries
1 cup granulated sugar
½ cup water
For the Whipped Cream:
2 cups heavy (whipping) cream, chilled
2 Tb berry sugar (superfine sugar)
½ tsp vanilla extract (optional)