If you thought Red Velvet Cake with Cream Cheese Frosting couldn't get much better you should try this. The addition of fresh blueberries and raspberries makes this version of traditional red velvet cake very special indeed.

As with all red velvet cakes, brownies or red velvet cheesecakes, make sure you use a good quality red food colouring. The red food colouring has to be intense enough to overcome the brown of the cocoa and give you that deep garnet shade you are looking for. The Americolor brand is good and has a well-deserved cult following in the cake and cake decorating world. You can find it here: Americolor Super Red Food Coloring
The supremely talented Epicurean Mom shares this lovely Raspberry and Blueberry Red Velvet Cake.

Raspberry and Blueberry Red Velvet Cake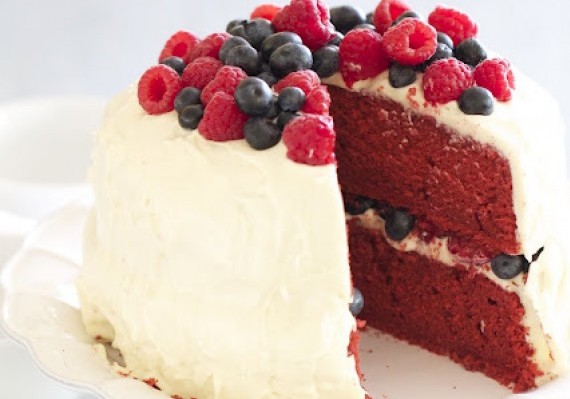 Ingredients
For the cake:
2¼ cups sifted cake flour
3 tablespoons unsweetened cocoa powder
1 teaspoon baking soda
1 teaspoon baking powder
½ teaspoon salt
1¾ cup buttermilk
1 tablespoon red food coloring
1 teaspoon distilled white vinegar
1 teaspoon vanilla extract
1½ cups granulated sugar
1 cup (2 sticks) unsalted butter, room temperature
2 large eggs
3 tablespoons thick Greek yogurt
For the frosting:
2-8 ounce packages cream cheese, room temperature
½ cup (1 stick) unsalted butter, room temperature
1 tablespoon vanilla extract
2½ cups powdered sugar, sifted
To finish:
1½ pints fresh raspberries
1½ pints fresh blueberries