This Pound Cake with Condensed Milk will sweeten your life in more ways than one. See, not only is this an incredibly delicious cake, but you make it in your food processor too.
Pound cake doesn't get much easier – or tastier, than this.
The cake is baked with 3/4 cup of sweetened condensed milk which adds a gorgeous rich flavor and velvety texture. It's a very satisfying cake indeed.
Perfect all by itself, or add extra sweetened condensed milk and a little chocolate sauce to finish and you'll be in pound cake heaven.
The ever sweet Daisy at Daisy's World shares this recipe for Pound Cake with Condensed Milk.
For another wonderful recipe with condensed milk, have a look at this Easy Condensed Milk Cake. Part cake, part flan – it changed my world.

Pound Cake with Condensed Milk Recipe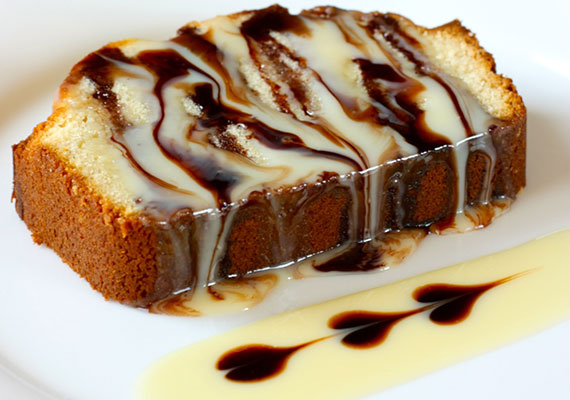 Ingredients
All-purpose flour
Baking powder
Sugar
Vanilla beans or vanilla extract
Unsalted butter
Salt
Sweetened condensed milk
Eggs
Condensed milk, for garnish
Chocolate syrup, for garnish