These Mini German Chocolate Cakes are just perfect for one person. That's right – no sharing. You get to eat the whole cake by yourself!

A delicious double layered chocolate cake with a gooey caramel pecan frosting all to yourself.
And more good news – as far as chocolate cake goes, this is a pretty healthy version.
The recipe gives you options to replace refined sugar with stevia or maple syrup. The clever frosting uses dried dates to give a delicious caramel flavor that goes oh-so-very-well with pecans.
What's more, if you're short on time (or don't have an oven), you can microwave these Mini German Chocolate Cakes. The recipe gives you the options for both an oven or microwave.
This clever recipe just keeps getting better and better – and that's even before you start to eat these little cake delights.
The deliciously healthy Chocolate Covered Katie shares her great Mini German Chocolate Cakes recipe.
(If you're looking for the more traditional full size German Chocolate Cake, this recipe is one of my favorites).

Mini German Chocolate Cakes Recipe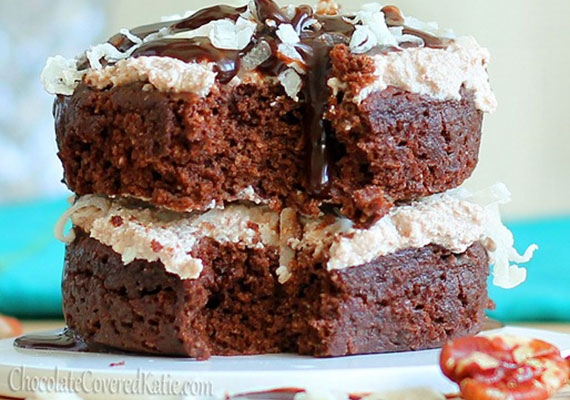 Ingredients
For the Chocolate Cake:
Cocoa powder
Spelt flour (or white if preferred)
Salt
Sugar or evaporated cane juice
Baking powder
Stevia (or 1 tablespoon more sugar)
Coconut oil or vegetable oil
Milk of choice (such as almond milk)
Vanilla extract
For the Frosting:
Pecans
Pitted dates
Water
Salt
Vanilla extract
Maple syrup
Stevia or powdered sugar
optional: coconut butter, for a more buttery taste
Shredded coconut