These mini Chocolate Chips Cakes are brilliant for when you want a little bit of cake – but not so much that you're eating it for breakfast, lunch and dinner.
See I wanted chocolate chips – but not cookies. I wanted cake – but not a whole one. Not a muffin, not a cupcake. Just normal cake. And chocolate chips.
And I wanted to use my recently purchased mini loaf pans – the cutest little cake tins you can imagine. Enough cake for two people. No more. No less. Perfect.
Oh – did I mention that I decided I wanted this mini chocolate chip cake extravaganza at precisely 10:48pm on a Tuesday night?
A quick check of the pantry revealed a surprising lack of caster sugar. Not to worry, brown sugar was in abundance. And butter? Well, no. I didn't have any butter either. But I did have oil.
So no butter, no white sugar, but plenty of dark chocolate chips, two adorable mini loaf cake tins and a will to bake (question: why does the desire to bake always hit me at the oddest times?)
Chocolate Chip Cakes would be a reality. But…
In the words of the immortal baker, "To recipe, or not to recipe? That is the question."
Now, I could have hit the internet and spent hours looking for a no butter, brown sugar, chocolate chip cake recipe that I could halve from my little loaf pans, but I decided to wing it.
Self raising flour, eggs, brown sugar, oil, splash of vanilla and a pile of dark chocolate chips. Lets see what happens. Worse case scenario, I could pick out the gooey melted choc chips.
The batter was rather golden thanks to the brown sugar, but it was thick enough to hold the choc chips so they wouldn't all sink south.
I don't mix my chocolate chips through my cake batter. I like to layer. A layer of batter in the bottom of the pan, a layer of choc chip. Repeat. Repeat. Repeat. Finally a layer of chocolate chips on the top. Into the oven and voila!
Happily my lovely little chocolate chip cakes were, well – lovely.
Lots and lots of choc chips and a golden hued cake that was moist and rich.
Possibly the perfect midnight snack. And morning tea the next day (when I took these pictures – I may be crazy enough to bake in the middle of the night but I'm not quite mad enough to be taking photos at that time).
All in all, I thought that my two little chocolate chip loaves were a testament to not over-thinking things. If I'd gone searching for my "perfect" recipe, I'm not convinced I would have found something quickly. I'm pretty sure I would have still been searching for that recipe online in the time it took to trust my baking instincts, throw together a cake recipe from what I had in the pantry, and pop it in the over.
So there you have it – my Chocolate Chip Cakes.
I'm looking forward to my next late-night baking urge. Who knows what I might invent! Stay tuned.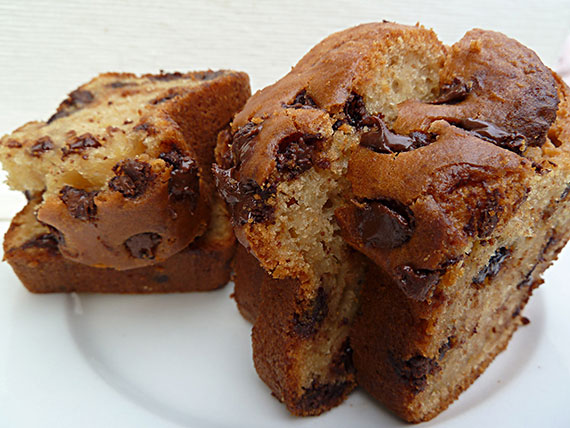 Remember, this is a recipe for two mini chocolate chip cakes, if you're looking for a regular sized chocolate chip cake recipe try this one or this chocolate chip cheesecake recipe could hit the spot too.

Chocolate Chip Cakes Recipe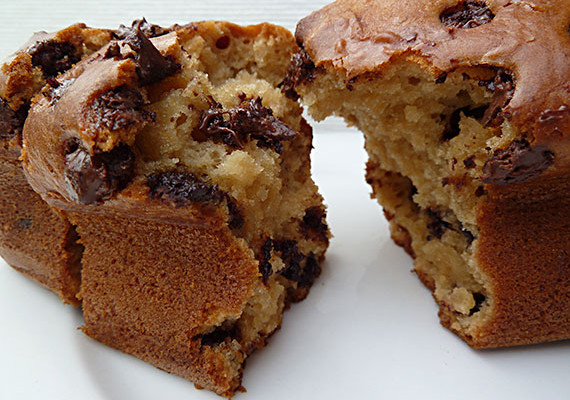 Ingredients
For two mini loaf pans 15.5cm x 8.5cm
1⅓ cups self raising flour, sifted
⅓ cup brown sugar, lightly packed
½ teaspoon vanilla essence
2 eggs
8 Tbsp of milk
4 Tbsp vegetable oil (I used grape seed oil)
¾ cup dark chocolate chips (more or less depending on personal preference).
Instructions
Preheat oven to 180 º C. Grease two small loaf pans.
In a medium sized mixing bowl, mix all liquid ingredients: eggs, oil, vanilla and milk.
Slowly add in sugar, mixing with an electric mixer or by hand.
Slowly add in sifted flour. Mix well until batter is smooth.
Spoon a thin layer of cake batter into the bottom of the loaf tins. Sprinkle a layer of chocolate chips on top. Spoon more cake over the chocolate chips. Sprinkle with chocolate chips. Repeat batter/chocolate chip layering until your pan is approximately ¾ full. Finish with a layer of chocolate chips.
Bake for 30 minutes. Perform a skewer test to make sure the cakes are cooked.
Remove from baking pans.
Eat preferably at midnight with a glass of milk.