A Strawberry and Cream Cake recipe that never fails to impress.
Fresh strawberries, lashings and lashings of cream and vanilla cake – you really can't go wrong with this combination.
This is a delicious, comforting and classic cake that's surprisingly easy to make for all it's good looks. For maximum impact, be generous with the cream and the strawberries (reserving the most perfect berries for decorating the top of the cake).
I think it's because this Strawberry and Cream Cake is a classic cake that it is such a crowd-pleaser too. It's an absolutely perfect special occasion or birthday cake.
But eat up – with all that gorgeous fresh cream this cake won't keep too long.
This delightfully old-fashioned Strawberry and Cream Cake is baked with love by Sea Salt with Food.

Strawberry and Cream Cake Recipe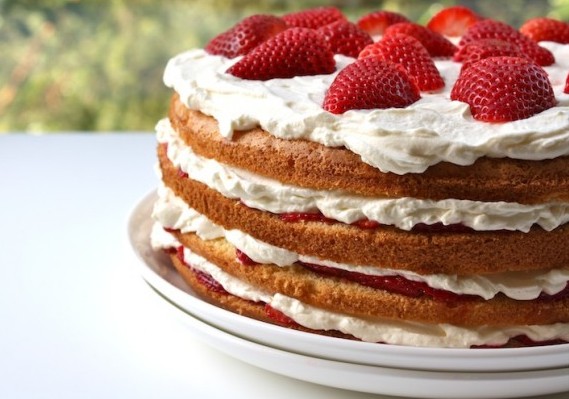 Ingredients
For the Cake:
1 ¼ Cups (175g) All-Purpose Flour
2 ½ tsp (10g) Baking Powder
⅛ tsp Sea Salt
5 Large Eggs, separated
1 ¼ Cups Granulated Sugar
5 Tbsp Boiling Water
1 ½ tsp Vanilla Extract
Grated zest of 2 Lemons
For the Strawberry Cream Filling:
2 Cups Fresh Strawberries, hulled and thinly sliced, plus more for garnish
1 tsp Fresh Lemon Juice
4 to 6 Tbsp Granulated Sugar
2 Cups Crème Fraiche
⅔ Cup Heavy Whipping Cream
1 tsp Vanilla Extract
Confectioners' (Icing) Sugar for dusting