Best Pound Cake recipe is quite a claim, but this lovely recipe surely must be a contender for that title. Here we have a Classic Pound Cake that is taken to new levels of deliciousness by adding a champagne glaze.
Champagne glaze on a cake? Sounds wonderful doesn't it.
There's nothing complicated with this recipe. The pound cake uses margarine and oil instead of butter – although there is half a cup of butter in the champagne glaze.
The glaze would work well on other plain style cakes too. And of course any sparkling wine will do, it doesn't have to be actual French champagne. I'll love to try this with a pink bubbly one day.
This challenger for the title of best pound cake recipe, Classic Pound Cake with Champagne Glaze is shared by the very talented Beyond Frosting.

Best Pound Cake Recipe: Classic Pound Cake with Champagne Glaze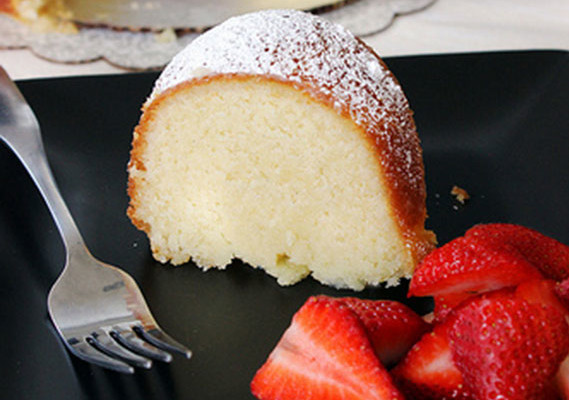 Ingredients
For the Pound Cake:
1 C (2 sticks) Margarine- at room temperature
½ C Crisco
3 C Sugar
5 Large eggs- at room temperature
3 C All-purpose flour
½ tsp Baking powder
Pinch of salt
1¼ C Milk- at room temperature
1 tsp Vanilla
For the Champagne Glaze:
½ C Butter
¼ C Water
1 C Granulated sugar
½ C Champagne
Powdered sugar for dusting