I have a weakness for exotic cakes, and this Pistachio Cake with a splash of orange blossom water hits all the right notes for me.
Lemon and pistachio cakes are very popular (with good reason), but a pistachio cake with orange zest and orange blossom water, is a truly wonderful alternative.
With generous amounts of chopped roasted pistachios, fruity olive oil, orange zest, vanilla and creme fraiche, this recipe has great flavors and textures even before you add the orange blossom water.
It's a great combination – the earthiness of roasted nuts and whole grain flour is perfectly balanced by the delicate blossom water and orange zest.
Another big plus for this recipe is that it's super quick and easy to make too.
Note the recipe's warnings about adding extra orange blossom water. It's potent stuff – heady and heavily floral so you really don't want to overdo it. You want your cake to be lightly fragrant but not perfumed, if you know what I mean.
This Pistachio Cake recipe is shared by the delightful Farm to Table Geek.
If you're a fan of pistachio cakes like I am, I have a few more recipes you might like. How about this Sweet Honey Pistachio Cake, this Almond Pistachio Cake or this lovely Strawberry and Pistachio Cake. As I said, I am a very big fan of those little green nuts.

Pistachio Cake Recipe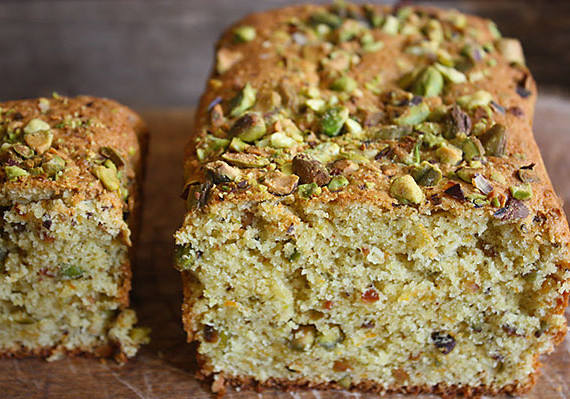 Ingredients
100g all purpose flour
50g whole grain pastry flour
2 eggs,
120g roasted pistachio nuts
125g creme fraiche
125g granulated sugar
50g good fruity olive oil
10g baking powder
½ tsp vanilla extract
½ tsp orange blossom water
zest of one large, darkly hued orange