This Lemon Pistachio Cake recipe has my name all over it.
I love nutty citrus cakes, especially when they're as easy to make as this one. The effort to taste ratio is really good here – minimum effort for maximum flavor.
Wholemeal flour and crushed pistachios give the cake a little bit of a rustic appeal. There's fresh and tangy lemon juice and zest, plus some vanilla yogurt in the cake itself. Finish it all off with a gorgeous lemon syrup and even more pistachios and your taste-buds will be singing.
It's almost surprising that a cake that's so quick and easy to make has such a vibrant flavor.
This is one of those cakes that gets better the longer you leave it. But it's so delicious, you'll be lucky to have any left-overs to try that out.
This Lemon Pistachio Cake is shared by the always delightful Anniecookie.
If you're a fan of those little green nuts like I am, you might also enjoy this lovely Pistachio Cake with orange blossom syrup.

Lemon Pistachio Cake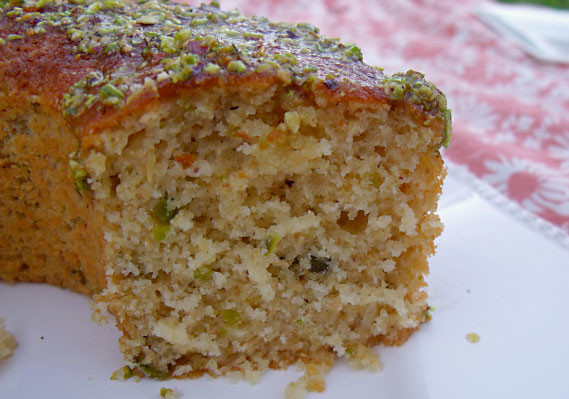 Ingredients
For the lemon and pistachio cake:
1 cup wholemeal self raising flour
½ cup white self raising flour
½ tsp baking powder
⅔ cup castor sugar
¼ cup pistachio nuts, crushed.
2 eggs
¾ cup creamy vanilla yogurt
½ cup butter, melted and cooled
2 tbs finely grated lemon rind
1 tbs lemon juice
For the lemon and pistachio topping:
½ cup lemon juice
¼ cup castor sugar
¼ cup pistachio nuts, crushed