A Vanilla Slice recipe that's guaranteed to please.

One thing that always strikes me about Vanilla Slice is how many different names this cakey-custardy-pastry delight is known by.

In English alone, Vanilla Slice is also known as Cream Slice or Custard Slice and frequently as Napoleon Cake. And while the cake itself is thought to have originated in France, just to confuse matters, the name "Napoleon" is believed to derive from Naples in Italy as opposed to the French general of short stature.

Regardless of where it's from originally, these days Vanilla Slice has legions of fans all over the world. In France, this cake it is known as mille-feuille, in Italy mille foglie, in Spain milhojas, in Austria and Switzerland crèmeschnitte, in Belgium and the Netherlands tompouce, in Poland kremówka or napoleonka – the list goes on. What seems to vary is how many sheets of pastry are used and whether the pastry alternates with layers of custard cream or just sits on-top and underneath the layer of custard.
But one thing that's not hard to understand is why this cake is loved by people everywhere.
Who can resist all those layers of light flaky pastry and delicious vanilla custard cream? This version adds a rich chocolate ganache topping as opposed to the more traditional sugar glaze.
Vanilla Slice doesn't have to be a labour of love. This recipe is not difficult but does require a bit of time as you need to factor in the refrigeration time. But like most good things, it's well and truly worth the wait.
The talented Cooking Easy shares this wonderful Vanilla Slice recipe.

Vanilla Slice Recipe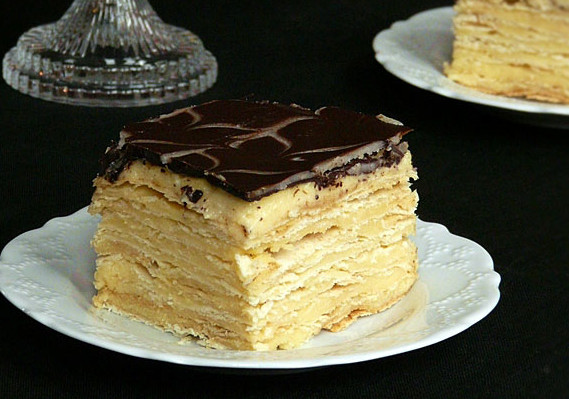 Ingredients
For the Pastry Layers:
125g cup cold butter
2 cups flour
½ t.s. baking soda
1½ tb.s. vinegar
app.1/2 cup water
For the Vanilla Pastry Cream:
½ liter milk
2 eggs
1¼ cup soft butter
2-3 tb.s. flour
11 tb.s. sugar or powdered sugar
couple of drops of vanilla essence - optional
couple of drops of rum essence - optional
pinch of salt
For the Easy Chocolate Ganache:
150 g dark chocolate
2 tb.s. olive oil
For the Simple Sugar Glaze:
A couple of drops of water
Icing/ powdered sugar