Ambrosia was the food of the ancient Greek gods. This Sweet Honey and Pistachio Cake must be close to a modern day version.
Deliciously moist from the honey syrup, this cake is heavenly for sure.
And so very easy to make – it's definitely worth trying. It might just end up being your new favourite cake.
This recipe was originally on a site called Jungle Frog Cooking which is now known as In Simone's Kitchen.
Divine indeed.

Sweet Honey and Pistachio Cake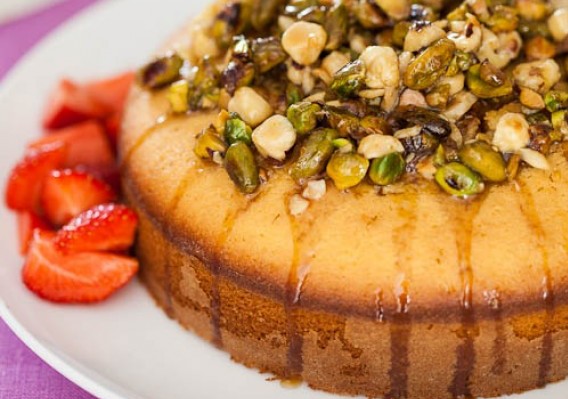 Ingredients
For the cake:
5 large eggs
225ml greek yogurt
225g caster sugar
75g ground almonds
1 piece lemon (zested)
1 orange (zested)
150g flour (plus extra for dusting)
200g semolina
2 teaspoons baking powder
200ml olive oil (mild and creamy)
For the Topping
150g pistachio (shelled)
150ml honey (good quality and runny)
To serve:
2 punnets strawberries (hulled and roughly chopped)
Greek yogurt

Happy baking!