This pound cake recipe caught my eye as it is chock-full of yummy chocolate chips. Who doesn't love a chocolate chip pound cake I ask?
But there's a secret ingredient in this pound cake which makes this recipe extra special in my book.
Pistachios! Now I'm a huge fan of pistachios and am always looking for new recipes to use them in. And pistachios and chocolate chips are a great combination.
As well as whole pistachios, the cake batter includes half a cup of pistachio paste (you make this in your food processor). You might be surprised to see that your pistachio paste is not green but brown – how does that happen?
Drizzled with a vanilla glaze and covered in more chopped pistachios, this pound cake recipe is an absolute winner. What's more, this is an easy to make cake too.
For lovers of pound cake. Of chocolate chips. And of pistachios.
This great Chocolate Chip Pound Cake with Pistachios is baked by the very talented Fork vs Spoon.

Chocolate Chip Pound Cake Recipe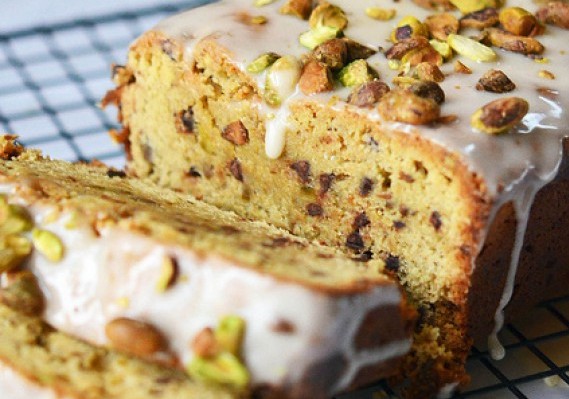 Ingredients
For the cake:
1+1/2 Cups All-Purpose Flour
1 Cup Pistachios, shelled and divided
10 Tablespoons Butter, room temperature
3 Ounces Cream Cheese, room temperature
1+1/2 Cups White Granulated Sugar
3 Large Eggs, room temperature
1 Teaspoon Pure Vanilla Extract
1 Teaspoon Salt
½ Cup Mini Chocolate Chips
For the Glaze:
2 Tablespoons Butter, melted
1 Cup Confectioner's Sugar
1-2 Tablespoons Milk
pinch of salt
½ Teaspoon Vanilla Extract
¼ Cup Pistachios, roughly Chopped

Happy baking!