An easy Oatmeal Cake recipe that's perfect when you need a cake to serve to a lot of people.
Also known as a Lazy Daisy Cake, this Oatmeal Cake recipe is a keeper.
This cake is pretty sweet with two cups of sugar (plus what's in the icing), but it's deliciously moist and gooey.
Add an evaporated milk, pecan and coconut frosting (borrowed from a German Chocolate Cake), and this is a super-easy, budget-friendly cake recipe that will please the masses for sure.
The cake genius behind this Oatmeal Cake recipe is One Perfect Bite.
If you're looking for more cakes to feed a crowd, this Yoghurt Cake with Fresh Strawberry Coulis is great too or this Easy Vanilla Cake which you can top with pretty much anything you please.

Oatmeal Cake Recipe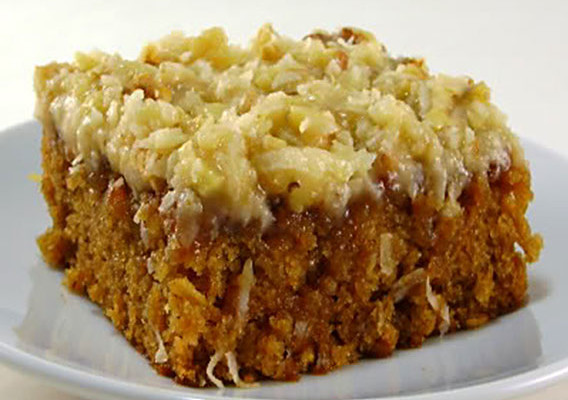 Ingredients
For the Oatmeal Cake:
1 cup old-fashioned oatmeal
½ cup butter
1-1/2 cups boiling water
1-1/2 cups flour
1 teaspoon baking soda
1 teaspoon salt
1 teaspoon ground nutmeg
1 cup sugar
1 cup light brown sugar
2 eggs, beaten well
1 teaspoon vanilla extract
For the Pecan Coconut Frosting:
½ cup butter
¼ cup evaporated milk
1 cup sugar
1 teaspoon pure vanilla extract
1 cup chopped pecans, toasted
1 cup sweetened shredded coconut