If you've never tried a Steamed Chocolate Cake before, this is a great recipe to start with. But beware, once you've tried this lush moist chocolate cake full of chocolate chips, you may never go back to baking your chocolate cakes in the oven.
Also known as steamed pudding, steamed cake is an old fashioned style of dessert which is coming back into vogue.
And why wouldn't it? You end up with a super moist cake with a wonderful texture that's incredibly easy to make too.
You do need a specialty pan with a well-fitted lid to steam cakes. Often called a pudding mold, if you can't find one locally, Google is your friend. Or this is a good one on Amazon: Steamed Cake/Pudding Mold and Lid
Of course, steamed cakes are a great option when you don't have access to an oven (think holiday accommodation, moving house, broken ovens, renovations, camping).
To fully appreciate the moist lusciousness of steamed chocolate cake, it's best to serve it warm. This particular Steamed Chocolate Cake recipe, includes a generous cup of chocolate chips, which stay all melted, gooey and delicious when warm. Just look at that texture! Heaven.
The steamed cake master, Not So Humble Pie shares this great Steamed Chocolate Cake recipe.

Steamed Chocolate Cake Recipe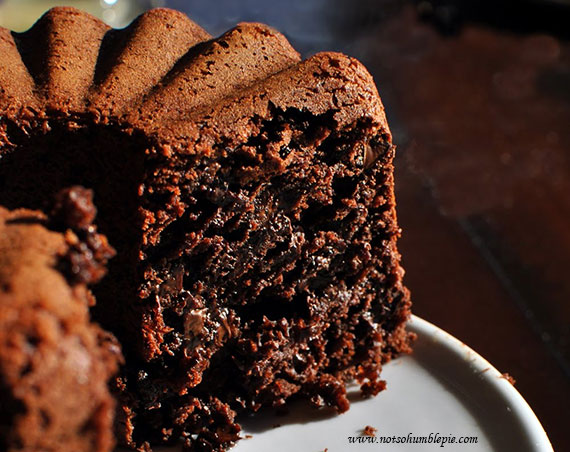 Ingredients
1½ cups all purpose flour
½ cup dutch cocoa
1 tablespoon plus 1 teaspoon baking powder
½ cup brown sugar, packed
½ teaspoon salt
¼ cup butter, melted
1 large egg, beaten
2 tablespoons molasses
1½ teaspoons vanilla extract
1 cup whole milk
1 heaping cup semi-sweet chocolate chips