An Almond Olive Oil Cake recipe that's good for the soul as well as the taste-buds.

With a generous amount of olive oil and a combination of almond and wheat flour, the cake is moist and rich. Remember a young and fruity olive oil is always best for this style of cake.
Add in a sweet fresh citrus burst from orange zest and juice and this cake will fix whatever ails you.
For creator Emilie from Scarborough Food Fair, it certainly saved her day after the abject horror of the DMV. As she says, it returned her "happy levels to the right place". But from Emilie's pain and suffering sprang this gorgeous recipe, so perhaps it was worth it after all. In any event, we thank her for it.
The glaze is a lovely addition, though not strictly necessary. But it's easy and tasty so why wouldn't you add it.
The ever delightful Emilie at Scarborough Food Fair shares this great Almond Olive Oil Cake recipe.

Almond Olive Oil Cake Recipe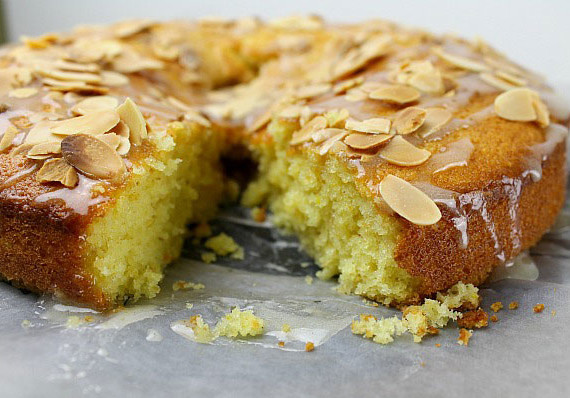 Ingredients
For the Almond Olive Oil Cake:
1 cup all-purpose flour
½ cup almond flour
1½ teaspoons baking powder
1 teaspoon salt
3 large eggs
¾ cup sugar
½ cup plus 1 tablespoon extra-virgin olive oil
¾ teaspoon vanilla extract
½ teaspoon almond extract
grated zest from ½ an orange
½ cup orange juice
For the glaze:
2 tablespoons unsalted butter
1 cup powdered sugar
3 tablespoons whole milk
few drops fresh lemon juice
½ cup sliced, blanched almonds, toasted and cooled