An Easy Black Forest Cake recipe which never fails to impress. Made with a wickedly good chocolate devil's food cake, gorgeous home made cherry filling and lashings of thick whipped cream. This cake is utterly luscious.
You can't go wrong with the classic combination of chocolate, cherry and cream can you?
Happily there's no need to fuss with this Black Forest Cake recipe so you can put your piping bag away. Despite how incredible it looks, it's actually an easy recipe. As Aristotle said, "The whole is greater than the sum of its parts."
Brace yourself for compliments – there will be many.
This Easy Black Forest Cake recipe is from the kitchen wonderland of Michelle at My Best Days Ever.
For more cherry cake delights take a peak at out Cherry Cake Recipe Collection.

Easy Black Forest Cake Recipe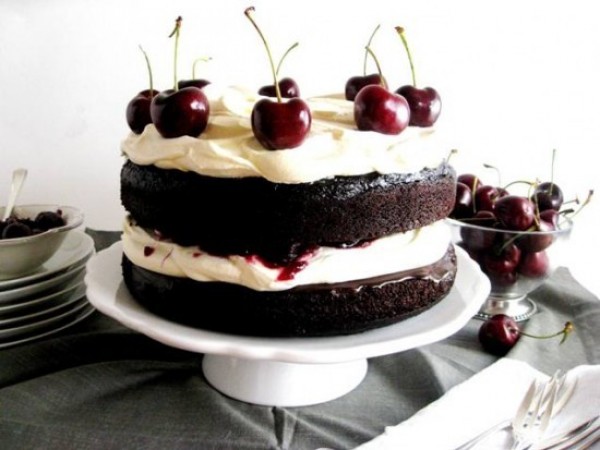 Ingredients
For the Chocolate Cake:
1 cup sugar
1 cup light brown sugar
2 cups flour
1 cup Dutch-processed cocoa powder
1 teaspoon salt
1 teaspoon baking powder
1 teaspoon baking soda
2 eggs, beaten
½ cup vegetable oil
1 cup whole milk
1 cup boiling water
For the Dark Chocolate Ganache:
113 grams/4 ounces dark chocolate, chopped
85 grams/3 ounces heavy whipping cream
1 tablespoons butter
For the Dark Cherry Filling:
400 grams/14 ounces dark cherries
5 tablespoons sugar
1 teaspoon cornstarch, sifted
1 teaspoon lemon juice
1 tablespoon kirsch or brandy
For the Mascarpone Whipped Cream:
½ cup mascarpone cheese
2 cups heavy whipping cream
½ cup powdered sugar