This easy vanilla cake is perfect when you need a big, delicious cake to feed the masses.

The summer fruits look (and taste) spectacular  but the beauty of this recipe is that you can use whatever you like on top.

Most fruits will work, or try chocolate sweets, honeycomb, peanut brittle or even crushed oreos (or other biscuits).
The trick here is to be very generous with whatever topping you choose. That's where the impact is.
A winner of a cake that's perfect for your next party.
This wonderful recipe is brought to you by The Marion House Book.

Easy Vanilla Cake with Summer Fruit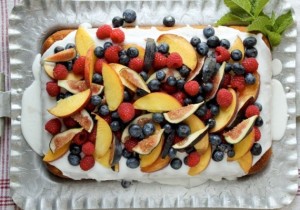 Ingredients
4 cups plain flour
2 tbsp baking powder
1½ tsp salt
1¼ cups unsalted butter, at room temperature
2½ cups granulated sugar
3 eggs
1 tbsp vanilla
2¼ cups milk
For Icing:
3 tbsp milk
2 cups sifted icing sugar
½ tsp almond, coconut extract or vanilla extract
Fruit to top