Can't decide between chocolate cake, strawberry cake or vanilla cake? Well with this clever Neapolitan Cake Recipe you won't have to choose ever again.
With Neapolitan Cake you can have your chocolate, strawberry and vanilla cake all at once.
But beware – not all Neapolitan Cake Recipes are created equal. Did you know that depending on what ingredients you use for your chocolate, vanilla and strawberry flavors, the different batters can bake at different rates? This of course, alters the finished cake.
Luckily for us, Naomi at Bakers Royale has done some experimenting and has developed a way of successfully combining the three flavored cake batters.
And just look at her gorgeous results.
Here the Neapolitan Cake is made as a zebra bundt cake. If you're new to zebra cake techniques don't worry, the recipe will guide you through it. It looks impressive but it's actually pretty easy to do.
The always inspiring Naomi at Bakers Royale shares this Neapolitan Cake Recipe.

Neapolitan Cake Recipe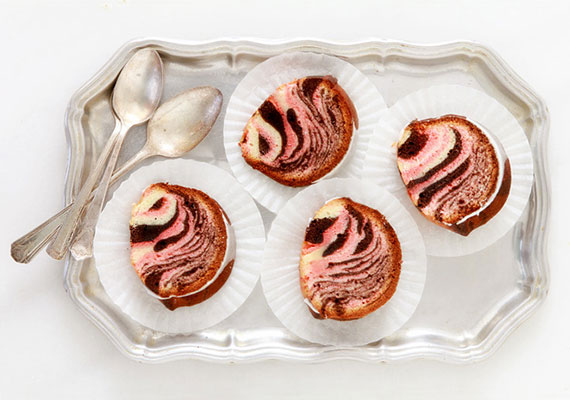 Ingredients
For the Neapolitan Cake:
Butter
Cottage cheese, pureed
Sugar
Vanilla
Salt
Eggs
All purpose flour
Strawberry Jell-o mix
Natural cocoa powder
For the Glaze: